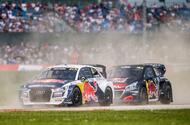 More details of the WRX's move to EVs have emerged; cars will use common components and produce about 670bhp from two electric motors
The World Rallycross Championship (WRX) will become a series for electric cars in 2020 after motorsport's governing body, the FIA, approved plans to introduce a new headline category for EVs.
The plan, as exclusively reported by Autocar as far back as 2016, was rubber-stamped by the FIA's World Council today. The FIA has also approved a technical template for the cars that will compete in the new-look championship.
They will be four-wheel-drive cars powered by two electric motors – one on each axle – with a power output of 500kW (670bhp).
To keep costs down, the cars will use a common drive battery, to be supplied by Williams, and a common chassis, which will be made by French preparation company Oreca. Williams and Oreca have deals to supply their respective components from 2020 to 2023.
This will effectively make the WRX a 'silhouette' formula, with manufacturers combining their own componentry with the common parts used by all entrants. Elements of the technical regulations are derived from the framework used by the Formula E electric single-seater championship.
Several manufacturers are reported to have expressed interest in a proposed move to electric cars, including Volkswagen, Audi and Peugeot, all of which are represented on the current WRX grid.
Peugeot backs electric rallycross series
Although the FIA hopes several manufacturers will be attracted to enter official factory-supported teams, there is scope in the regulations for privateers to homologate their own cars, on the condition that they use the common battery and chassis, and design their bodywork using guidelines prescribed by the FIA.
The sporting regulations will remain the same as today's WRX: competitors will try to progress through practice, four qualifying heats and two semi-finals in a bid to reach the six-car final.
Electric rallycross could run alongside Formula E
Entries in the World Rallycross Championship will be reserved for two-car teams and there will be titles for drivers and manufacturers awarded. Privateers will contest a separate teams' trophy.
In theory the very short sprint-style nature of rallycross races should suit electric vehicles, because there are no issues with driving range.
Lessons in gravel and jumping from Audi's rallycross stars
An electric powertrain combined with a lightweight chassis should enable acceleration that is as spectacular as the current crop of 600bhp supercars, which can sprint from 0-62mph in about 2.5sec.
Although the new-look series was approved by the FIA's World Council today, there was no mention of what will happen to the current supercars. There is a suggestion that they will continue to compete for a separate championship.
Source:: Autocar