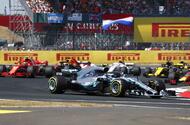 British Grand Prix 2018 at Silverstone
A legal precedent arising from the 'Vnuk case' could send shockwaves through European motorsport, and key industry figures are taking action
It is unlikely that many of the motor racing enthusiasts basking in the Silverstone sunshine and enjoying a thrilling British Grand Prix on Sunday gave a moment's thought to an obscure four-year-old European court case involving a Slovenian farm worker.
But Motor Sports Association chairman David Richards was thinking about it, as was the most important man in world motorsport, Jean Todt – and, after meeting with the aforementioned pair at Silverstone on Sunday, so too was our government's very own transport secretary, Chris Grayling.
The subject is important to the sport's most influential figures because changes to the law resulting from the case threaten to drive up the cost of competing in motorsport, particularly at a grassroots level, and add layers of complexity that could cause some forms of club competition to cease completely.
The case in question – Damijan Vnuk versus Zavarovalnica Triglav – dates back to 2014. Vnuk, a farm worker, sought compensation for injuries sustained when he was knocked off a ladder by a trailer attached to a tractor that was reversing across a farmyard. Vnuk's argument was that the insurers of the tractor should compensate him. The Slovenian court disagreed because the incident occurred on private land – but the European Court reversed the ruling.
It became a complex issue that hinged on the EU's interpretation of whether vehicles operating on private land are required to be covered by compulsory insurance regardless of how they are being used. The European Court decided that they did, as long as that use is consistent with the normal function of the vehicle.
As it stands, this ruling would require all competition cars in motorsport – from short oval stock car racing to hillclimbing – to have compulsory third-party insurance.
Many competition vehicles are already road registered, taxed, MOT'd and insured, but this insurance is usually limited to their activities on public roads, and not during competitive sections on private land. A similar situation applies to vehicles on track days.
The MSA says that no insurance policy is currently available to cover such a compulsory obligation. If any or all incidents had to be reported to insurers, the amount of paperwork arising from your average club race meeting would be monstrous.
Currently, competitors can insure their vehicles against damage caused, and they may insure themselves against accident or injury. The MSA has an umbrella insurance policy that covers public liabilities up to £65 million and, when club motorsport events are awarded a permit from the MSA, they take advantage of this. All competitors and officials on MSA sanctioned events also have the benefit of an umbrella personal accident insurance policy.
A knock-on effect of the case is a rewording of the EU Motor Insurance Directive to accommodate the European Court's updated interpretation of what constitutes 'vehicle usage'. That process is ongoing, but when the changes have been agreed, all EU member states will have to incorporate them into the Road Traffic Act (or their versions of it).
For the past few years, the MSA has been fiercely lobbying for the revised MID to exempt motorsport from its scope. However, the new proposed wording for the MID has recently been published and although it acknowledges the industry's lobbying, it does not appear to remove motorsport.
That setback is one of the reasons why Richards and Todt used the occasion of British motorsport's showpiece event to meet with Grayling and to push motorsport's case.
The MSA isn't overly concerned just yet – the final wording of the MID has yet to be approved – and is stepping up its lobbying on a national level. Brexit might also affect the UK's adoption of a revised EU-mandated MID.
Admittedly, none of this is as exciting as watching Vettel, Hamilton, Räikkönen and Bottas scrap for the lead of the grand prix, but it is important and there is a feeling among those in power that motorsport enthusiasts from the top to the bottom of the sport need to be made fully aware of the potential ramifications.
If the cost of competing is pushed up, thousands of budding Lewis Hamiltons might not be able to afford to make it on to the starting grid in karting and other grassroots competition. It could also encourage unregulated events or even damage the UK's motorsport industry, currently worth an estimated £10 billion to the UK economy.
The weekend's British Grand Prix showed our motorsport industry at its very best, but we need to keep it that way.
Source:: Autocar