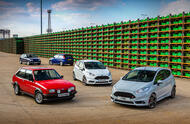 The recently revealed ST200 meets its ancestors on the back roads of Essex. Is this the best Fiesta ever made?
Travelling to Dagenham to experience some old Ford Fiestas on Essex back roads might not sound like the stuff that driving dreams are made of, but this is a chance to experience pretty much the whole hot Fiesta bloodline in a single day.
It's also an excuse to visit the Ford Heritage Collection, which is housed in an anonymous-looking industrial unit that sits on the edge of the diminished Dagenham factory site.
The arrival of the Fiesta ST200 provides …read more
Source:: Autocar