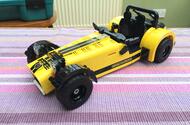 Building the bonkers 620R out of Lego took three hours – and it was time very well spent
The Caterham Seven has long been available as a kit, albeit one that is too big to easily squeeze under your average festive fir tree.
Thankfully, the Danish brickmeisters at Lego have the answer: a model of the bonkers Seven 620R. At £69.99, it's significantly cheaper than the £16,995 that an entry-level Seven 160 in kit form would cost, and at nearly a foot long, the Lego model is the perfect size for your desk or mantelpiece.
The 770 bricks that make up …read more
Source:: Autocar