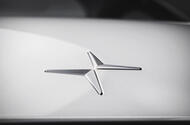 Former head of Volvo design Thomas Ingenlath to lead new company, cars won't carry Volvo badging
Volvo's Polestar brand will launch a range of electrified vehicles, the company has confirmed – and none of them will carry the Volvo logo.
No details have been given as to the first Polestar products to be launched, although the timing of this announcement and the accompanying picture of what is believed to be the brand's logo on a car suggests a Frankfurt motor show launch this autumn is possible.
Suggesting that Polestar's cars will be heavily based on existing Volvo models rather than pure standalone vehicles, a Volvo statement said: "Polestar will enjoy specific technological and engineering synergies with Volvo Cars and benefit from significant economies of scale as a result of its connection to Volvo. These synergies will allow it to design, develop and build world beating electrified high performance cars."
However, Volvo and parent company Geely's investment in two flexible platform architectures for all its large and small cars does raise the possibility of it developing heavily bespoke models for Polestar.
In a further move that bucks industry convention and underlines just how keen the company is to differentiate itself from rival companies such as BMW's M division, Audi's RS offshoot ar Mercedes-AMG, Thomas Ingenlath, formerly Senior Vice President Design at Volvo, will become Chief Executive Officer at Polestar.
Ingenlath said: "I am really excited to take up the challenge of establishing this exciting brand, developing a fabulous portfolio of bespoke products and channelling the passion we have throughout the Polestar team. The next chapter in Polestar's history is just beginning."
Håkan Samuelsson, president and chief executive of Volvo Cars, added: "Thomas heading up the Polestar organisation shows our commitment to establishing a truly differentiated stand-alone brand within the Volvo Car Group."
Furthermore, Ingenlath will be joined at Polestar by Jonathan Goodman, who becomes Chief Operating Officer having been Senior Vice President Corporate Communication at Volvo Cars.
"With 25 years of commercial experience in the automotive industry, Jonathan is ideally placed to provide operational experience alongside Thomas's vision, building on the experienced management team that will drive the Polestar brand forwards" said Samuelsson.
"Polestar will be a credible competitor in the emerging global market for high performance electrified cars. With Polestar, we are able to offer electrified cars to the world's most demanding, progressive drivers in all market segments."
Polestar was established as the motorsport arm of Volvo in 1996, and was bought by Volvo Cars July 2015. As well as creating Polestar cars under its own name, it will also sell performance packages for Volvos under the Polestar Engineered name.
Source:: Autocar