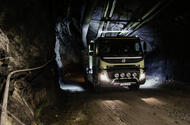 Swedish manufacturer equips a truck with laser scanners to enable it to negotiate the poorly lit, narrow, slippery corridors of an underground mine
Volvo has claimed a world first by testing a fully autonomous truck in a working mine some 1300 metres underground in northern Sweden.
The Volvo FMX truck is part of a development project aimed at improving the transport flow and safety in the Kristineberg Mine, 60 miles from Arvidsjaur in northern Sweden. The truck will cover a distance of 4.3 miles, reaching 1320 metres underground in narrow tunnels.
"This is the world's first fully self-driving truck to operate under …read more
Source:: Autocar