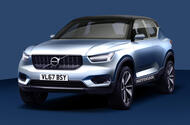 Volvo's first electric car will be built in China and exported globally from 2019; it'll be based on the same architecture as the XC40
A Volvo electric vehicle will be made in 2019 and exported globally from China, the brand has announced.
The Swedish firm's first EV will be based on the brand's compact modular architecture, suggesting that it'll be in the 40 series of cars, following the advent of the S40 and XC40.
Volvo previously confirmed that the 40 range would include both a plug-in hybrid and pure electric car, and it's thought that the former will come first. The announcement was made at the Shanghai motor show.
Volvo has committed to selling 1million electrified cars by 2025, so it's likely that this electric vehicle, particularly as a more mass-market friendly smaller car, will contribute significantly.
Parent company Geely also plans to produce electrified versions of the Lynk&Co 01 and 03 models, and has confirmed that a plug-in hybrid variant will use technology from the 40 Series cars. This suggests that in addition, a Lynk&Co EV may be on the way shortly afterwards.
Read more:
Volvo XC40 confirmed for 2017 launch
2017 Lynk&Co 01 SUV launched at Shanghai show
Source:: Autocar