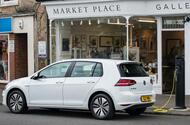 Volkswagen's 'digital ecosystem', named We, will branch out into car sharing as the brand's first car such scheme launches next year in Berlin
Volkswagen will open its first car sharing scheme next year in Berlin, with a fleet of 1500 e-Golfs and, later, 500 e-Ups available for use.
We Share, the first car sharing prong of Volkswagen's We digital mobility scheme, will first open in the German capital in the second quarter of 2019, with further European and North American cities set to follow in 2020.
The electric e-Golfs and e-Ups will be replaced by the ID hatchback – codenamed Neo ahead of production – once that model enters production in late 2019 and arrives on roads in early 2020.
Pricing is still being calculated, but Volkswagen is aiming for We Share to be as user-friendly as possible, hinting at lower pricing than current car sharing schemes. The company's executives could not be drawn on whether the scheme will charge per mile or by hour, however.
"We want to make sure that vehicle availability is always guaranteed," said Christoph Hartung, head of mobility sales, digital and new business.
The brand will "establish a network of independent charging stations to keep the cars on the move," as well as collaborating with energy providers to build up the necessary infrastructure for the service, said Hartung.
We Share is part of a larger 'ecosystem' of digital services from Volkswagen that will allow users to sign in to multiple platforms using the same details. These include mobility service Moia and We Deliver, a parcel delivery service that delivers to the user's car. We Charge, a charging assistant for electric cars, will also be offered, among other services, such as grocery delivery, which Volkswagen is developing with an unnamed large-scale retailer. The existing We Park smartphone app will also be integrated.
The ecosystem will be accessible from every Volkswagen from 2020, when internet connectivity will be fitted as standard. Volkswagen aims to make the car central to the Internet of Things phenomenon, in which objects and appliances not usually associated with internet connectivity are connected to the internet and can interact remotely.
It's part of the second stage of Volkswagen's three-stage long-term strategy, which began in 2015 with the proliferation of SUVs across its global line-up. The introduction of the MEB platform models in 2020 is the second prong, while autonomous cars and 'new mobility' solutions are the third, planned for 2025.
Volkswagen anticipates €1 billion of sales through the We service by 2025.
"We have a clear vision: we will continue to build vastly superior vehicles,» said sales boss Jürgen Stackmann. «But going forward, our Volkswagens will increasingly become digital devices on wheels.»
The brand aims to transform towards an operating system (OS), Stackmann continued, saying: «Volkswagen OS will be a foundation for our functionalities – a platform to be in direct contact with our customers.»
Read more:
Fully autonomous Volkswagen vehicles due on roads from 2021
Analysis: how Volkswagen is conquering China
California trials digital numberplates
2019 Volkswagen Golf Mk8: first pictures of mule show new cabin tech
Source:: Autocar