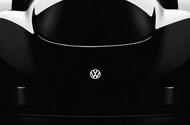 German brand will reveal a car with a large fixed rear wing, as shown by two preview pictures
Volkswagen is gearing up for a return to motorsport with a prototype competition car, as shown by two preview images released onto social media.
The German brand has shown the car's dome-like roofline and large, fixed rear wing, suggesting it will be a bespoke racing machine rather than being based on a road model.
There are no intakes or grilles visible, hinting that the car could be electrically powered. This would certainly align with the Volkswagen Group's latest motorsport movements, in which it has ramped up its investment in electric technology.
Alongside its push for electric in its road car division, group brands Audi and Porsche have both ceased their investment in the World Endurance Championship (WEC). The former upped its concentration on Formula E with a factory outfit this year, while the latter is due to enter the electric series from 2019.
Volkswagen departed the World Rally Championship (WRC) at the end of last year, leaving its motorsport arm without an entry in top-level motorsport.
Volkswagen's increasingly electric focus comes after the brand's image was left in tatters following the Dieselgate emissions cheating scandal. The brand has since shifted its resources to green technologies, with its ID hatchback, scheduled for launch in 2020, to be its first purpose-built electric model.
Source:: Autocar