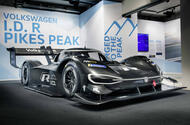 The Volkswagen ID R Pikes Peak
Four-wheel-drive electric racer, powered by twin electric motors, is designed to bid for EV record on Colorado hill climb
Volkswagen has revealed the 671bhp ID R Pikes Peak electric-powered prototype that it will use on the Pikes Peak International Hill Climb in June.
The machine, which has been designed solely for the 12.42-mile, 156-turn Colorado hill climb, features two electric motors that combine to produce permanent four-wheel-drive and offer 470lb ft of torque. The ID R Pikes Peak weighs 1100kg, including driver Roman Dumas, with Volkswagen claiming a 0-62mph time of 2.25 seconds and a top speed of 149mph.
Volkswagen is gearing up to launch the ID range of electric road cars starting in 2019. The firm's development boss, Frank Welsch, described the Pikes Peak event as a "real acid test" for the firm's electric programme.
First Volkswagen ID prototypes due to be built
"Customers have always benefitted from the findings made in motorsport, and we expect to take these findings and use them as a valuable impetus for the development of future ID models," said Welsch.
Bentley Bentayga W12 to compete in 2018 Pikes Peak hill climb
Volkswagen says that the focus of the ID R Pikes Peak is not on outright performance, but on balancing energy capacity and weight.
The machine is powered by lithium ion batteries developed in collaboration with Volkswagen's battery plant in Braunschweig, Germany, although the focus is on ensuring the highest possible power output for the run up the Colorado mountain, rather than outright range. Volkswagen says that around 20% of the energy used by the ID R Pikes Peak will be created using energy recovery during braking on the course.
The ID R Pikes Peak has been developed by the firm's motorsport division. Sven Smeets, Volkswagen's motorsport chief, hinted that it could be the first of several EV projects, saying: "As with the Volkswagen brand's production vehicles, fully electric racing cars will also play an increasingly important role for us in the future."
Volkswagen aims to sell three million electric cars by 2025
The ID R Pikes Peak was launched at the Pole Mecanique circuit in Ales, France, shortly before starting a test programme there. Because the Pikes Peak course is a public road, participants are unable to test there ahead of the event – and even in official practice only get to run on short sections.
Volkswagen reveals ID Vizzion concept at Geneva
Volkswagen is targeting the record for an electric car at Pikes Peak of 8min 57.118secs by Rhys Millen in a Drive e0 PP100 in 2016. That car featured six electric motors, and offered peak power of 1596bhp.
The outright Pikes Peak course record of 8min 13.878secs was set by Sebastien Loeb in the Peugeot 208 T16 Pikes Peak in 2013.
The Pikes Peak International Hill Climb, which takes place on June 24 this year, is regarded as one of the toughest hill climbs in the world. As well as the 156 turns on its 12.42-mile route, competitors must also cope with the elevation: the start line is 9390 feet above sea level, and rises 4720ft to the finish at a height of 14,110ft. The course gradient averages 7.2%.
Volkswagen previously competed at Pikes Peak between 1985 and 1987, with Jochi Kleint running a twin-engined Golf. That car had turbocharged 1.8-litre engines driving each axle, giving a peak output of 652hp. Kleint was the fastest driver to the halfway point in 1987, but retired with a suspension joint failure less than a mile from the finish.
Read more
Bentley Bentayga W12 to compete in 2018 Pikes Peak hill climb
Volkswagen reveals ID Vizzion concept at Geneva
First Volkswagen ID prototypes due to be built
In detail: the Volkswagen ID Crozz concept
Pikes Peak 2016: Tesla Model S sets production electric record
Pikes Peak 2015: Rimac targets electric record with 1455bhp car
Source:: Autocar