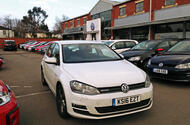 Our Golf goes in for its first service after reaching 18,000 miles, just after some warning lights pinged up on the dash
Our Volkswagen Golf's schedule is set to 'long life' mode, and a warning indicator diligently popped up on the dashboard 300 miles before the first service was due at 18,000 miles.
Then the tyre pressure warning indicator pinged up on the instrument panel a couple of days before the service and the ECU light joined it as I drove to Volkswagen Twickenham, so I mentioned them both while dropping the car off.
Although the service seemed relatively pricey at just over £200 for an oil and filter change, it included an Express Visual Check, which gave me a written report on how much tread was left on the tyres and how worn the brake pads were. As someone with a busy life, I appreciated having these checks done for me.
My mentions of the warning lights were heeded, too. Although nothing other than a switch reset was needed for the ECU light, the tyre pressure warning was the result of a nail stuck in the rear right tyre. It was removed and the puncture repaired for free.
VW GOLF 1.0 TSI 115 MATCH BLUEMOTION EDITION
Price £20,735 Price as tested £21,120 Economy 50.5mpg Faults None Expenses Oil £46.99, 18,000-mile service £204
Read our previous reports here:
Source:: Autocar