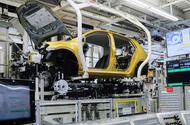 Authorities are taking longer than expected to certify cars under new, more realistic emissions procedure, with Audi, Mini, Peugeot and Porsche facing similar problem
Volkswagen plans to halt production on some of its models, starting in August, because authorities are taking longer than expected to certify cars under the new, more realistic Worldwide Harmonised Light Vehicle Test Procedure (WLTP) emissions tests.
At a meeting with its works council in Wolfsburg today, Volkswagen Group CEO and VW brand boss Herbert Diess announced that the Wolfsburg factory might be forced to temporarily cease production of unspecified model variants from August, a month before WLTP certification becomes a legal requirement within the European Union.
Diess told the works council: "Within the Volkswagen brand alone, we need to test more than 200 model variants and have them type-approved within a very short space of time. To master this challenge, our test rigs have been and will be operated virtually round the clock."
A VW statement clarified that there is at least three times the amount of testing to be done compared with previous testing routines, meaning the company's testing rigs are in constant demand and are now in operation 24 hours a day to catch up.
"We must expect production interruptions in the third quarter," said Diess. "After the works holidays in Wolfsburg, we will only be making vehicles that meet the new standards. Vehicles will be delivered step by step as soon as the type approvals required are available. Nevertheless, we will need to store a large number of vehicles on an interim basis. To ensure that this number does not become too large, we will need to plan closure days for production in Wolfsburg during the period between the works holidays and the end of September."
Chairman of the works council, Bernd Osterloh, protested at the proposed production halts, saying: "It is not the fault of our colleagues that the company has built too few test rigs over the years and can suddenly not handle the test volume required. We will not allow this burden to be borne by the workforce alone at the end of the day. Our colleagues in production are not responsible for this situation."
WLTP was introduced to replace the outdated and at times unreliable New European Driving Cycle (NEDC) tests in the aftermath of VW's Dieselgate emissions scandal.
VW R&D boss Frank Welsch told Autocar last month: "The problem is not having the technical solutions but what you have to have before [certification].
«By 1 September, everything needs to be fixed, done and certified. That's all of our portfolio, and our portfolio is big. We're not prepared for new certification for all of our cars in one year, with access to test benches, equipment, wind tunnels and so on, and it's the same for our suppliers.
«Now, it's all in a couple of months. We need more time, more test benches, more people at the [test] authorities.
"Some engines will not be available for two months or so. We have solutions but not the tests available. So in some cars, we will not have all the engines."
VW will not be alone in having to suspend production due to delays over WLTP certification.
Audi, Mini, Peugeot and Porsche have all been forced to halt sales of some models, while BMW ended production of the M3 rather than alter it to meet WLTP standards.
Autocar has approached VW for comment.
Read more:
Inside Volkswagen's Wolfsburg production plant
New WLTP emissions test could force heavy discounts on unsold cars
New WLTP emissions test: when it's in force and how it could affect your car
Analysis: Are car makers ready for WLTP?
Car makers subject to new EU regulatory laws after Volkswagen scandal
Source:: Autocar