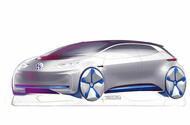 Volkswagen has released new pictures of its first electric-only model ahead of its full reveal at the Paris motor show next week
Volkswagen has shown its upcoming electric model in a series of revealing sketches ahead of its debut at the Paris motor show.
The EV, which will be revealed next week, is a five-door hatchback with sliding rear passenger doors.
The images confirm it gets futuristic lighting and a rear roofline that extends out beyond the tailgate. With no combustion engine to feed, the car's nose is short and has no grille.
The model, which has been scheduled for release in …read more
Source:: Autocar