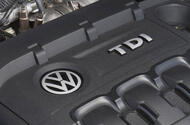 Volkswagen Dieselgate fix causes break downs and reduced performance, says report
UK government report says owners have also suffered increased fuel consumption and reduced performance
Volkswagen's Dieselgate fix for its EA189 diesel engine has caused multiple breakdowns, increased fuel consumption and reduced performance, a UK government report has revealed.
The written evidence, which was submitted by the Volkswagen Diesel Customer Forum, says owners of cars issued with a fix for affected 2.0-litre diesel engines have also noticed increased exhaust smoke, excessive regeneration of diesel particulate filters (DPF) and DPF failure.
It says exhaust gas regeneration (EGR) valves have also failed, as have turbochargers and fuel injectors. Further claims state that other vehicles have entered limp mode or their engines have got louder once the voluntary fix was issued.
This comes despite comments from VW that the fix, which was focused around a software change in affected models, would have no impact on vehicle performance and that it had been "extensively tested" and approved by "relevant independent authorities". The company said it tested 200,000 vehicles in the software's development.
VW owners launch bid for £3000 compensation
According to the government report that has followed, VW has responded to complaints from disgruntled owners with statements such as: "We have heard of no other issues from other customers who have had the update applied.»
Two months ago, VW UK managing director Paul Willis gave evidence at a Transport Select Committee meeting and said just "0.75% of total updated vehicles had received a complaint". The report says that equates to 3500 vehicles in total, because VW is fixing around 20,000 vehicles a week.
However, it believes the number is significantly higher and that VW has failed to keep a log of issued complaints, meaning the exact number is yet to be learned. The report also suggests that some owners have had to pay for replacement of failed EGRs after the fix was issued to their car, with VW stating that these failures had nothing to do with the software change.
VW declines to pay £1m TfL bill
Models affected by the VW emissions scandal include the Polo, Golf Plus, Beetle and Passat with the EA189 diesel engine.
The Volkswagen Diesel Customer Forum has urged the government to consider prosecuting VW for the scandal, something it is yet to do. In the report, it uses a quote from Willis to justify its argument for prosection.
The Willis statement said: "To be clear, NOx emissions limits under the EU5 emissions standard are the prescribed limits during New European Driving Cycle testing, and these limits only regulate NOx emissions in the context of that prescribed testing and do not regulate ordinary driving conditions on the road; there is currently no legal limit for real-world NOx emissions on the road in the UK."
The report believes that this breaks the laws set out by EU5 engine regulation.
Autocar has contacted VW for a response to the report. It will offer one later today.
Crucial VW ID concept revealed
Source:: Autocar