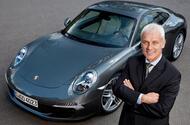 German brand said it is considering "evolving the leadership structure"; Volkswagen brand boss Herbert Diess could take the lead
Matthias Müller looks set to stand as Volkswagen CEO this Friday in what is being described as an "evolution" of the leadership structure.
Reports in German media suggest Müller, who has been at the helm of the Volkswagen Group since the aftermath of the dieselgate scandal in September 2015, will be succeeded by VW brand chief Herbert Diess.
Volkswagen issued a statement confirming that it is considering management changes that "would also be associated with personnel changes in the Board of Management". But when contacted by Autocar, a spokesman couldn't confirm whether that included the removal of Müller from the group's lead position.
Autocar understands that a Müller departure comes as part of plans thought up by Wolfgang Porsche, Hans Michel Piech and Hans-Dieter Poetsch. The former two come from the families that control more than 52% of the Volkswagen Group, while the latter is chairman of the group.
Müller's departure would also leave a vacant space on the board of Porsche, where he also has a seat.
Müller has led the Volkswagen Group through one of its toughest periods as it faced fire for its emissions scandal. He inherit the top role from Martin Winterkorn, who resigned when the scandal broke.
More content:
Source:: Autocar