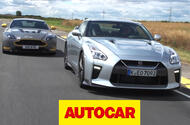 This is a battle of the digital versus the analogue. Both are excellent fun, but which is fastest?
The 2017 Nissan GT-R versus Aston Martin V12 Vantage S manual is an old-school versus new-school shootout.
The Aston Martin V12 Vantage S does things the old-fashioned way. It has a monster V12 under is nose, driving the rear wheels through a manual gearbox.
The MY2017 Nissan GT-R does things the newfangled way: there is a turbocharged V6, fiendishly clever four-wheel drive and a dual-clutch automatic gearbox.
Both cars have the same 563bhp, but which will be faster around …read more
Source:: Autocar