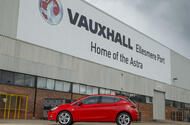 Vauxhall is terminating contracts of all of its dealers
British brand and its German alternative, Opel, will only propose new contracts for most successful businesses
Vauxhall and Opel brands will "terminate all dealer franchise contracts with two years of notice", Vauxhall managing director Stephen Norman has confirmed.
During a conference call he said notice would be given on the 30th April, meaning all contracts will end on 30th April 2020.
The last time Vauxhall refranchised its dealer network was in 2013, when it trimmed its dealer network from 349 to the 326 locations contracted today.
The Vauxhall boss wouldn't confirm how many of Vauxhall's 93 retailers, which operate 326 retail locations in Britain, would be retained, and he denied speculation that around at third could go. "The majority of retailers who are currently with us will remain," he said.
Norman, who has been at the helm of Vauxhall since the start of 2018, two months after parent company the PSA Group completed its buy out of the brand, said that the Vauxhall dealership network is making profit but that the decision to terminate current contracts came in an effort to boost overall profitability.
"We believe some dealers need to make more money," he said.
Vauxhall sales tumbled in 2017, with demand for its models down to 195,000 units, a decrease of 22% on 2016.
In the face of this, Norman explained that dealers offered new contracts would be chosen because they rank highly for profitability, "including used car sales and after sales, as well as customer satisfaction".
Opel, Vauxhall's equivalent in Europe, will also reduce its number of dealers, which currently stands at about 1600 across the continent, 400 of which are in Germany.
Norman (pictured below) dismissed speculation that the refranchising would lead to inevitable job losses in the UK car retail industry. Vauxhall employs 12,137 people in its UK dealer network, but Norman emphasised his belief that all dealers not provided with Vauxhall contracts would find other outlets to represent.
"I am not expecting any of these people's jobs to be threatened," he said.
Vauxhall's dealer franchise restructuring could involve closer integration with its PSA Group siblings, Citroën, Peugeot and DS. Norman told Autocar that sharing some retail sites with its siblings was "almost inevitable" because this option gives both Vauxhall and Opel "a flexibility that we didn't have before".
Refranchising is just one part of the big changes afoot for Vauxhall. Norman plans adjustments to the company's commercial policies, pricing policies and advertising policies. The brand recently announced that its Luton plant would build PSA vans from 2019, essentially confirming the future of the site for a decade.
But a decision for the future of the brand's Ellesmere Port factory won't be made until 2020. The site, which builds the Astra, cut 400 jobs from its workforce last year. It now operates with one shift per day, rather than two.
The changes come as part of the PSA Group's plans to boost efficiency in all brands, outlined by its Push to Pass business plan that was announced by PSA Group chairman Carlos Tavares late last year.
More content:
Jaguar Land Rover confirms 1000 contract jobs to go due to diesel slump
Volkswagen Golf GTI long-term review
Source:: Autocar