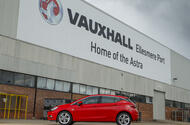 Vauxhall is set to axe 400 jobs at its Ellesmere Port plant
Nearly a quarter of workers to lose jobs at Cheshire facility in bid to boost site's 'competitiveness'
Vauxhall's new owner, the PSA Group, is planning to cut 400 jobs from the firm's Ellesmere Port car plant, according to reports.
A PSA spokesperson told the Reuters news agency that the job cuts at the facility were designed to improve its 'competitiveness', noting that costs were higher than at other 'benchmark' sites in Europe. Around 1800 workers are currently employed by the firm at the Cheshire facility.
"Facing challenging European market conditions and a declining passenger car market, Vauxhall needs to adjust production volumes at its Ellesmere Port production facility to the current level of demand and to improve its performance, in order to protect its future," the spokesperson told Reuters.
Vauxhall currently makes the Astra model at Ellesmere Port, producing around 140,000 cars per year. It is understood the firm's bosses are planning to move from two production shifts to one, in part due to falling demand for saloon cars with the rise in popularity of SUVs.
The PSA Group, which includes Peugeot, Citroen and DS, completed its purchase of Vauxhall and sister brand Opel from GM in August.
Read more
Insight: why has PSA bought Vauxhall and Opel?
Source:: Autocar