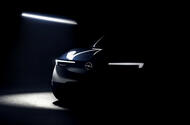 New SUV will share much with the Peugeot 5008 and Citroen C5 Aircross, including a later PHEV and electric version
Vauxhall is preparing an all-new SUV flagship under its new PSA ownership, which has been partly revealed in an image, ahead of a 2020 launch.
The design sketch shows an early version of the car's styling, which is devoid of a grille. While this suggests an electric model, the new SUV will definitely use traditional combustion engines, meaning a production version will employ a grille.
Like its Peugeot 5008 large SUV sibling, the unnamed SUV will gain a plug-in hybrid variant following its launch, which will be with PSA Group internal combustion engines.
The car will sit on the PSA EMP2 platform, alongside the Peugeot 5008 and Citroen C5 Aircross, and will be a development of the current Vauxhall styling – the first car from the brand to be designed under full PSA ownership.
The car's name is not known but Vauxhall's SUV naming structure for its larger SUVs suggests it will follow the '-land X' naming structure. It will be the largest car on the Vauxhall fleet too, suggesting that it will get the full raft of safety technologies which the brand champions.
It's unlikely to be priced above Peugeot and Citroën siblings, given Vauxhall's current brand positioning in the PSA Group, but a sporty GSI-badged variant – recently introduced on the Insignia and reported to be spreading to other models – is not off the table.
A Vauxhall spokesman could not be swayed on whether the lack of grille in the preview image suggests that the car will get a fully electric variant or not.
Related stories:
Source:: Autocar