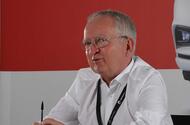 Conditions are right, Stephen Norman believes, for a turnaround strategy to be effective
Vauxhall's vital signs are perking up under PSA Group ownership, but UK boss Stephen Norman is just getting started
Stephen Norman, the 63-year-old car industry veteran who took charge of Vauxhall in January, is convinced that the "major highlight" of his 43-year career lies ahead.
The task that will bring the glory to Norman and his team is the rapid restoration of Vauxhall to sales success and sustainable profitability, a project that a long line of decent managers, working under Vauxhall's previous owner, General Motors, have already proved is no pushover.
However, having spent the first few months of his tenure devising a simple but ground-shaking five-point strategy for a Vauxhall turnaround – which I am in the company's Luton HQ to hear about – and having had his plan rubber-stamped by the big PSA bosses with a speed GM could never have managed, Norman counts his chances of success as very good. Not that odds matter "because I don't intend to fail".
Such bullish declarations are unheard of for recent Vauxhall bosses, weighed down by their predecessors' lack of success, and beholden to a controlling German management itself controlled from a US ivory tower.
They have been either competent place-holders or haven't lasted. Vauxhall has plodded on as an 'always-there' kind of company, selling cars with a slightly lower brand image than they deserved to a gently declining band of usual suspects.
But decision-making is different now. Norman has a lot of authority because the UK boss's job has been redefined. But in any case, under Carlos Tavares (with whom Norman has worked for more than a decade) and German-based Opel boss Michael Lohscheller, decisions are "extremely simple and extremely rapid".
Sporty Vauxhall GT X concept hints at firm's design future
Norman readily acknowledges Vauxhall's time in the slow lane. He's nothing if not a realist. But when we move to a boardroom near his office – one wall covered by the simple, graphic 'True Brit' Astra ad appearing on hoardings all over the country – he begins with a short UK car market history lesson to demonstrate that Vauxhall is a far better company than many think. "I really take umbrage when people say Vauxhall is a disaster area," he says. "It can do better, for sure, but it's not so different now from what it always was."
Norman produces charts to demonstrate that whereas Vauxhall (current UK market share 7.6%) was doing around 9% in the post-BL days of the early 1980s, Ford has dropped from 30% to not much more than a third of that today. Vauxhall did jump to 16% for a few years when the market suddenly saw the Cavalier as a far better bet than the Ford Sierra but, broadly speaking, Vauxhall's fortunes have been "less irregular" than almost anyone. Premium manufacturers (whose volume has expanded from 2% to 20% in the period) are the real winners.
Other myths? Norman deeply dislikes the inference that Vauxhall can't be successful because it depends on company car sales. "We've always done it," he says. "Even back in the 1960s, our Vivas, Victors and Veloxes were company cars. Today, our Corsa sales are mostly retail, but the bigger cars still go to fleets. We sell to user-choosers, and there's nothing wrong with a company car sale as long as it's about as profitable as a retail sale. Our business is absolutely not built on sand, but on a different kind of rock."
In pictures: cars of the Vauxhall heritage collection
Another popular Vauxhall criticism, says Norman, is its tendency to pre-register a large proportion of its cars at the end of each month – up to 21% of total volume against a national average of 15%, he admits with trademark candour – as a way of forcing cars into the market, albeit at lower prices. Exaggerated sales in the last three days of the month and big sales to hire fleets are other criticised volume-boosting measures, but Norman declares "everyone's on that wagon", producing figures to show that at Vauxhall both practices are in solid decline.
Then, rather like a rabbit from a hat, he produces a killer fact on Vauxhall's all-important pricing power: by starting to refuse deals that "undersell ourselves", the company has boosted its average transaction prices to within 4% of Volkswagen, everyone's role model. This, he believes, made an important contribution to the remarkable Opel-Vauxhall financial turnaround announced last month and will help more to help in future. Norman says he will add efficiency and lower costs by gradually shrinking the Vauxhall line-up to three van and six car lines. The vans "choose themselves", he says, based on size and the fact that the all-important UK-made Vivaro is coming next year. The car offerings will be a new Corsa, new Mokka, Astra, the Crossland and Grandland SUVs, and the Insignia executive saloon.
"It'll be a slimmer range than many of our competitors," says Norman, "but it's what we need to reach our objectives."
2019 Corsa to get radical overhaul
Serially unsuccessful since 1999, Opel and Vauxhall recently contributed a near-miraculous £445 million profit to PSA's half-year bottom line. What is more, the brands did it on the extremely healthy operating margin of 5%, respectably close to PSA's own stellar 8.5%. Norman professes himself "not very surprised" at the achievement, in the sense that there's more to be done.
Conditions are right, Norman believes, for a turnaround strategy to be effective. Most of the products already look strong. The UK-made Astra continues to win respect as a Golf competitor, even if sales are resolutely unremarkable. The Mokka, Crossland and Grandland SUVs sit in the market segments that appeal to British buyers. The graceful and capable Insignia executive saloon continues to be highly rated in the premium sector. A new Combo Cargo (Berlingo-Kangoo fighter) is due soon, and after that comes the biggest product …read more
Source:: Autocar