Check for damp and ensure all electrics work
A Mercedes SLK, with its folding hard-top, is a tempting buy. We tell you what to look for and how much to pay
Galvanised Mercedes convertible: surely the recipe for a top used car, isn't it?
Better still, prices for the model that meets this description, the R171-series SLK from 2004 to 2011, start from just £2500 for an early, entry-level version.
One such example is a 2004-reg SLK 200 auto with 111,000 miles on the clock and a year's MOT. "Engine powerful and reliable, hood works," claims the seller. Doubtless were you to traipse to Leicester to check it out, you'd find much to criticise. Still, it highlights how low prices for the second-generation SLK go. Even at the other end of the spectrum, they aren't mad, with late 'n' low cars starting at £11,000 or about where the cheapest SLK 55s (not covered here) begin. In the middle, at around £7500, you'll find decent-mileage facelifted 200s from 2008, and even some slightly older 280s and 350s.
Find a used Mercedes-Benz SLK on PistonHeads
The R171 may have followed its forebear in being a two-seat convertible-coupé with a folding metal roof but there the similarities end. Not only does the later model have a rust-resistant body but also far superior looks. It rides and handles better, too, although if those qualities are uppermost in your mind, try a 987-generation Porsche Boxster before pitching in.
The SLK arrived with a choice of two engines: a 159bhp supercharged 1.8 in the SLK 200 and a 264bhp 3.5-litre V6 in the SLK 350. A year later, a 225bhp 3.0-litre V6 sneaked in to make the SLK 280. Six-speedmanual gearboxes were standard but most SLKs were ordered in automatic form, the four-pot 1.8's a five-speed 'box and the V6s' a seven-speeder.
For the full-fat experience, go for the 350 or save your licence and buy a younger, lower-mileage 200. Because it arrived a touch later, there are fewer 280s to choose from and, in any case, they're little cheaper than the 350.
Fast-forward to 2008 and the SLK received a facelift (new nose and tail) and some 650 new components, including a new instrument cluster. Power increased, with the SLK 200's rising to 179bhp and the 350's to 297bhp. The 280's engine remained at 225bhp but became a tad cleaner and more economical. But Mercedes wasn't finished with it yet. A year later, it renamed it the SLK 300; same power and economy but even cleaner.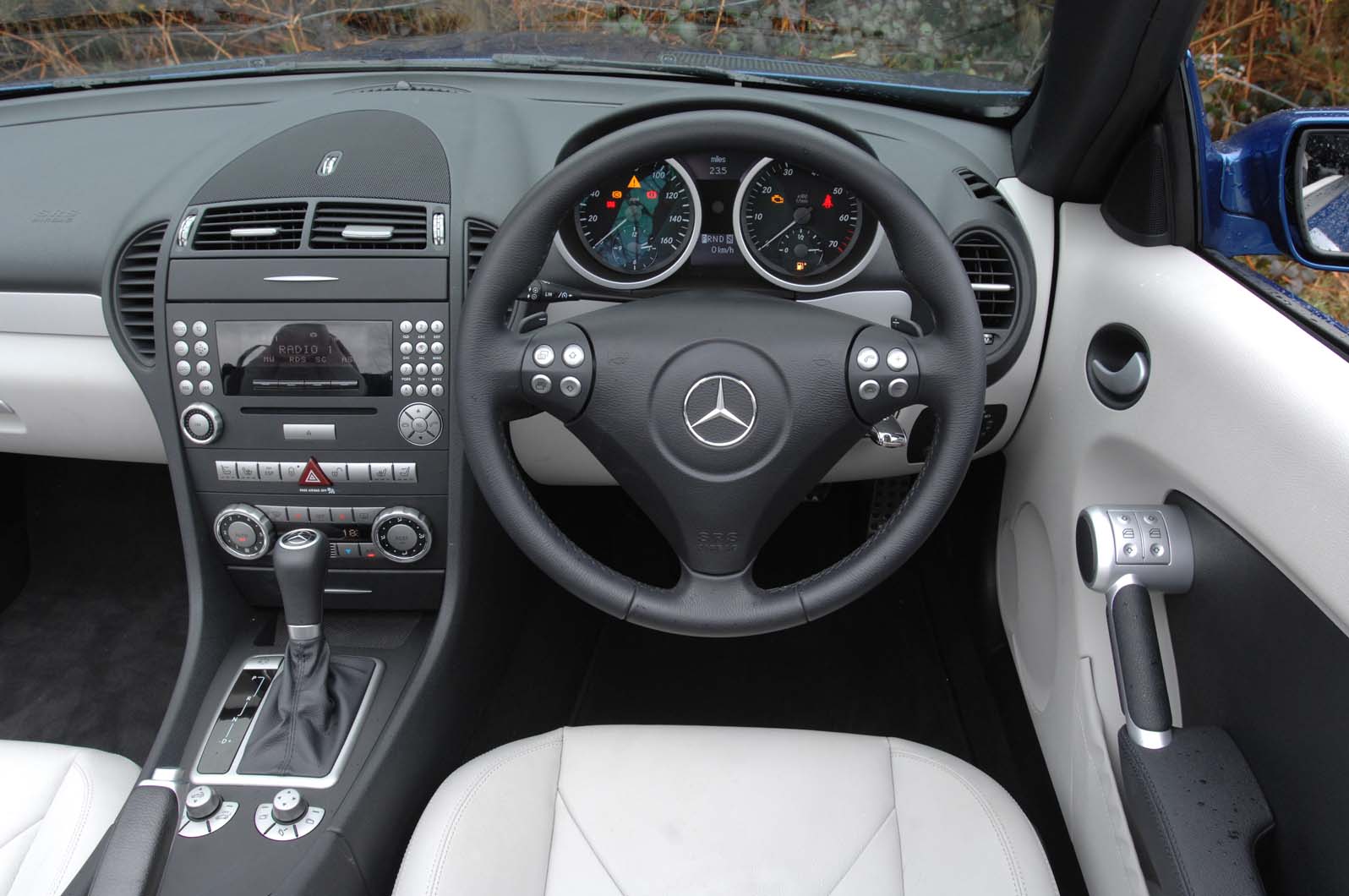 That same year (2009) saw the arrival of the SLK 2LOOK Edition with special finishes and details. It also got the SLK's Airscarf neck-level heating system, an option on other versions and worth seeking out today. Other notable editions in the R171's life are the higher-spec Sport on the 200 and 280, and Edition 10 (special paint and alloy wheels) on the 200, 280 and 350. As a last hurrah, the SLK 200 Grand Edition, complete with bonnet fins, landed in 2010 before the rug was pulled in 2011.
Mercedes-Benz SLK 2011-2016 review
As autumn heaves into view and drivers' thoughts turn to rain and fog, now could be the right time to buy a good used SLK R171 for an even better price.
HOW TO GET ONE IN YOUR GARAGE
An expert's view: Peter Bristow, Hampshire Service Centre
"As a specialist technician, I give the SLK R171 seven out of 10 for reliability, drivability and looks. The engines aren't as tough as those in the old R170 SLK. Neither is the 171's seven-speed auto 'box on more expensive versions as trouble-free as the standard five-speed. Incidentally, whatever Mercedes says, those auto 'boxesdo like an oil and filter change every 35,000 miles. I can't fault the 171's galvanised body, superior suspension and sharper handling. On those measures, it's a great car. "
Buyer beware:
ENGINE – On early 280 and 350 V6s, beware balancer shaft gear failure. Early signs are misfiring, and the 'check engine' light – followed by terminal timing chain failure. Early 200s can suffer premature timing chain and camshaft sprocket failure. Check the V6 cam cover sealing discs for leaks.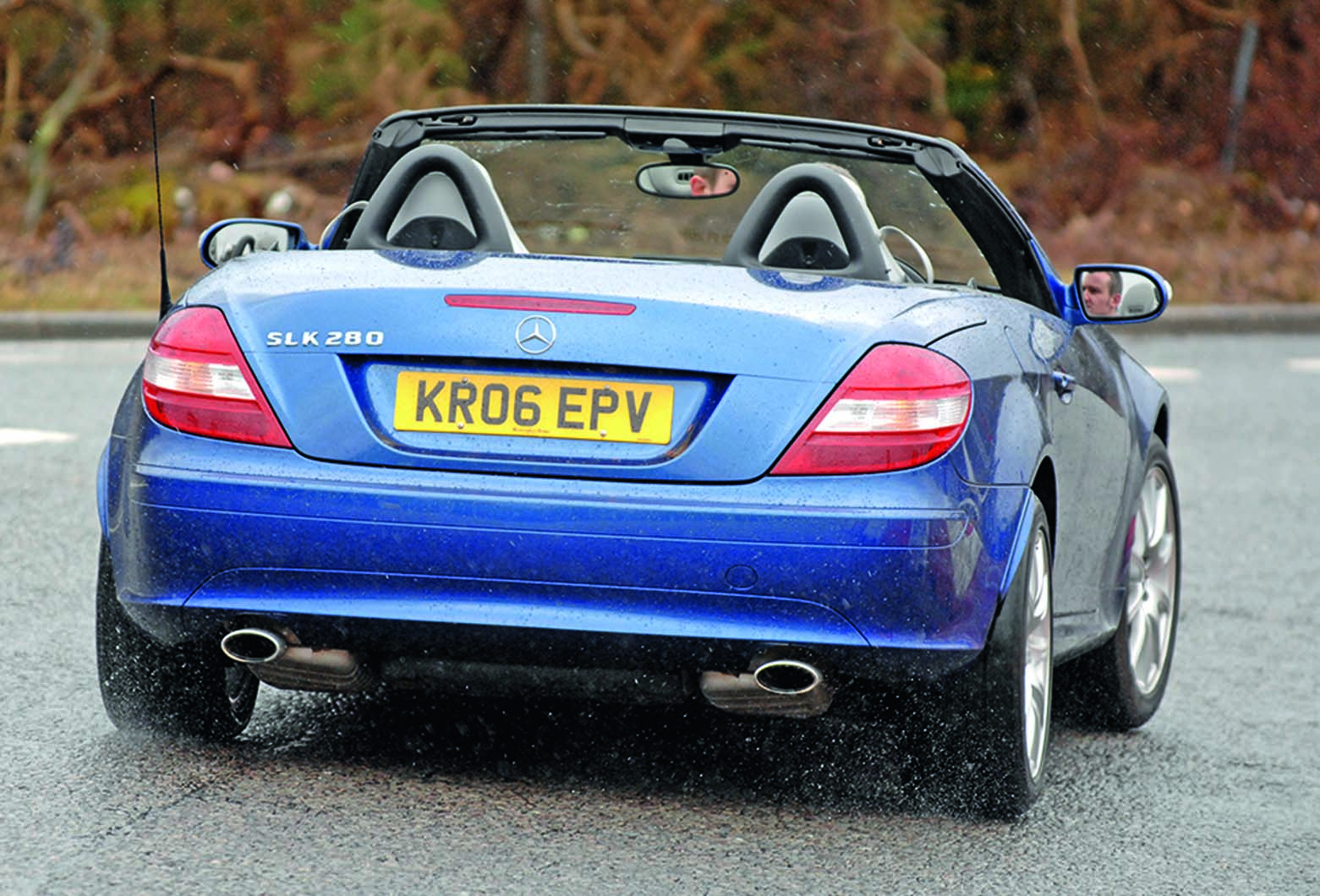 TRANSMISSION – With the car at a standstill, check for a smooth D-to-R engagement a few times. If the seven-speed auto'box won't move beyond fifth, suspect speed sensor issues. On five- and seven-speed autos, low oil will cause overheating and clutchburn.
SUSPENSION AND BRAKES – Thrust arm bushings and front and rear anti-roll bushes are weak spots. Broken front and rear springs are increasingly common.
EXHAUST – Inspect the condition of the Y-section. Cracking is common but there's now an inexpensive repair kit.
BODY – It's galvanised so generally rust-free but rear subframes on older cars are now corroding, leading to possible MOT failure. Regarding the roof, lack of use can cause the dust covers on the microswitches to hold the switch in position so it can't work. Headlights turn yellow with age (MOT advisory) but can be polished. Check there's a modified seal on the A-pillar and around the windscreen to stop water penetrating to the door control modules and upsetting the central locking and windows.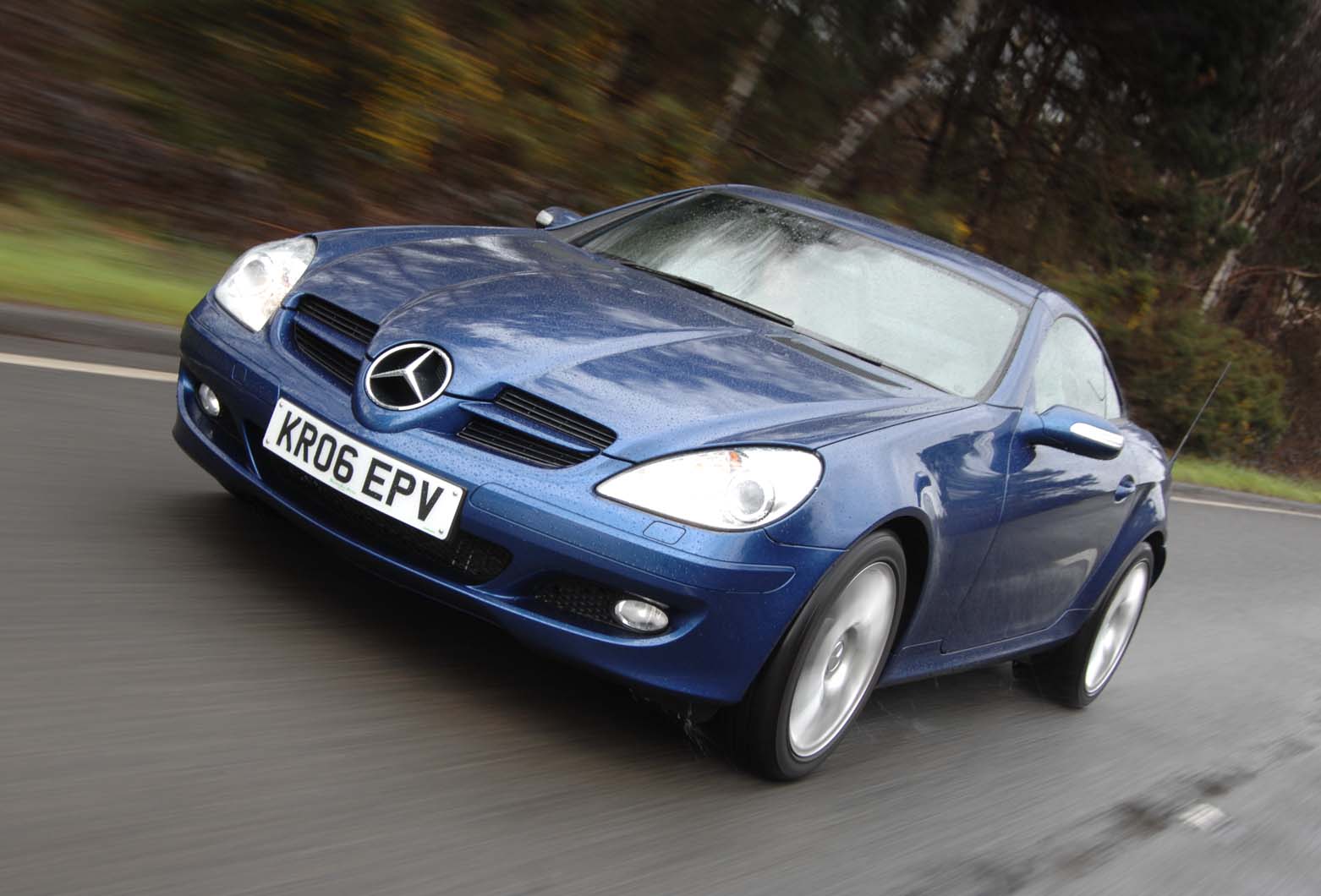 Also worth knowing:
If the roof squeaks as it operates, check the seals. UV and age take their toll on the rubber, causing it to harden. Krytox, a synthetic grease, should return the seals to as-new condition.
How much to spend:
£2500-£3995 – Cheapest 2004-reg models, including a 115k-mile 200 with 12 months' MOT.
£4000-£5995 – More 2004-2008 200s, plus 280s and 350s with under 100k miles.
£6000-£7495 – Low-mileage 2005-2007 200s and high-spec 50k- to 80k-mile 2005- 2008 280s and 350s.
£7500-£8995 – Very low-mileage 2006-2009 200s, some 2009-reg 2LOOKs and low- mileage 2007 280s and 350s.
£9000-£10,995 – More low-mileage 2009-2010 200s and 2008-2009 280s.
£11,000-£15,000 – First 2009-reg 300s plus best late 'n' low 200s and 350s; 2005-reg AMGs from £14,500.
One we found:
MERCEDES SLK 200 AUTO, 2008/58, 62K MILES, £7250: It's only the 200 with the 1.8-litre engine but at least it's the later, facelifted one with …read more
Source:: Autocar