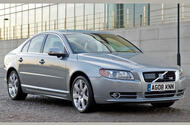 VOLVO S80 V8: We salute whoever at Volvo decided to bring this thirsty four-wheel-drive 4.4-litre V8 to UK shores. It makes no sense at all, until it does: for those who don't do many miles, such as retired folk, this is a way to travel in huge comfort and style. With a near-silent 311bhp petrol engine humming away you might even get 28mpg on a steady run. There are just over 100 of these on UK roads at present.
The market didn't want these cars – but you should
To someone they seemed like such a good idea at the time. These are the halo models that were always doomed to fail – the derivatives that were signed off in a fit of blind optimism, and which would lead to heartbreak in showrooms around the country.
If you're a second-hand car dealer, you'll be praying that none of these are offered as a trade-in, because you just know they'll be a nightmare to shift. But all have merit, and some are future classics, if not there already, and you should get one. If there are any we've forgotten about, please let us know below.
Please slide through the gallery above, and don't forget to go full-screen to view these rare creatures
Source:: Autocar