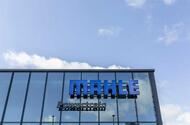 Mahle Powertrain's new £8.3m facility will allow manufacturers to test against the RDE standard, which comes into force on 1 September 2019
The UK's first Real Driving Emissions (RDE) test centre has been opened by Mahle Powertrain in Northampton.
The £8.3m facility will allow manufacturers to ensure their cars meet the new standard, which will become a legal requirement on 1 September 2019.
Testing can be conducted on a new four-wheel-drive-chassis dynamometer that is subjectable to a wide range of altitude and climatic conditions. This reflects the RDE test, which will be undertaken on real roads, rather than in a laboratory.
The test takes place on a route that ticks the same boxes whatever the location, including high speed on motorways, low speed in urban conditions, medium speed on rural roads, low and high altitudes, driving up and down hills, increased payloads in the car and different climatic conditions covering year-round temperature and humidity.
The results of RDE will be used in conjunction with the laboratory-conducted WLTP test, conformity with which will be mandatory from 1 September 2018, to calculate the final figures for each car.
Simon Reader, Mahle Powertrain's engineering director, stated: "For UK-based manufacturers, our new facility means vehicles can be thoroughly tested to the highest standards without leaving the country. This will shorten lead times and costs, helping the UK to retain its reputation for automotive engineering excellence."
Mike Hawes, CEO of the Society of Motor Manufacturers & Traders, said: "The SMMT is delighted to see Mahle Powertrain open the UK's first dedicated RDE test facility. Together with the WLTP lab test, RDE is part of the toughest emissions testing regime in the world.
«It provides clear evidence that the automotive industry is delivering on its commitment to cleaning up our air while providing motorists with more realistic emissions and fuel consumption information."
detail about WLTP and RDE
Source:: Autocar