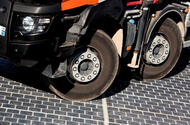 Wattway panels can be applied to road surfaces, making use of existing space to provide renewable energy
A small number of UK road surfaces could be covered in special solar panels this year as part of a worldwide trial to see if their use could be rolled out on a large scale.
Wattway solar panels are a product from construction firm Colas. They are just 7mm thick and can be placed onto any road surface, therefore generating energy without requiring any new space.
The panels use photovoltaic technology, which converts sunlight into a flow of electrons. Colas says the surfaces can power road …read more
Source:: Autocar