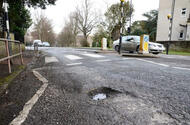 Figures show it would take 14 years and £9.3bn to repair Britain's roads
Around 12% of UK roads are in poor condition as a result of underinvestment and ineffective government funding methods, a new report said.
RAC roads policy boss Nicholas Lye said the report, which was produced by the Asphalt Industry Alliance (AIA), shows that "short-term funding and creating pots by which local authorities can bid for cash doesn't appear to be addressing the root cause of the problem".
AIA figures show that 24,496 miles of roads are in need of repair in Britain over the next year. The total budget shortfall to repair pothole-filled roads currently totals an estimated £556 million, equating to a shortfall of £3.3m for each authority.
Potholes: how much they cost the UK and how they are fixed
The Government has said it is investing £6 billion in improving local roads, but the AIA claims that inconsistencies in allocated budgets make it difficult for local authorities to initiate long-term fixes.
"All of the average totals hide a wide disparity that exists between those seeing increased funding and others who have seen their budgets cut and funds diverted to other areas of council expenditure, notably education and social care," the report said.
The report claimed that, even with effective funding, the issue is so vast that it "would now take 14 years to get local roads back into a reasonable steady state" – two years more than the previous AIA estimate – and cost £9.3bn.
The pothole in the Government's road repair plan
"As things stand, all road users are faced with the prospect of road surfaces falling into an even worse state, making for increasingly uncomfortable, expensive and, in some cases, downright dangerous journeys," said Lye.
Bad road surfaces and potholes can accelerate wear on car suspension components or even cause direct damage. UK authorities paid out £7.3m in compensation to affected motorists in 2017, a rise of more than £500,000 on the year before.
More content:
Ever wondered why UK roads are so lumpy?
Source:: Autocar