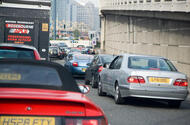 Government expected to unveil £3bn plan to tackle air pollution; diesel and petrol cars in the spotlight
All new cars sold from 2040 must be electrified, the government is expected to announce later today – although it remains unclear if this means they must be fully or partially powered by electricity.
The move is expected to be announced as part of a £3bn blueprint for tackling air pollution, and is consistent with the Government's election manifesto. A scrappage scheme for older diesel vehicles is also expected to be considered, but is unlikely to be ratified until after a consultation period.
In 2017 around 4% of all new car sales have been electrified, with around a quarter of that figure sales of fully electric cars. Current predictions by charging point firm Chargemaster suggest that the first one million electrified car sales will be achieved in 2022, by which point electrified car sales will account for around 10% of all new car sales. There are around 40m cars on UK roads today.
Additionally, a £255 million fund is expected to be set up to aid councils to clean up the most polluted inner city areas.
Potential methods of tackling local issues include introducing charging for high-polluting vehicles through to total bans on vehicles in some areas. The removal of speed humps and traffic calming measures has also been highlighted as a possible improvement. Money will also be made available to retro-fit pollution-reducing technology to public transport
Air pollution is linked to around 40,000 premature deaths a year in the UK. A government spokesman said: «Poor air quality is the biggest environmental risk to public health in the UK and this government is determined to take strong action in the shortest time possible."
France announced similar measures earlier this year.
Source:: Autocar