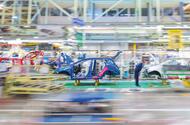 Domestic demand struggles but exports remain buoyant
UK demand for cars built in the country declined by a massive 47.2% in June — the result of "a perfect storm", according to the UK's automotive industry body.
Mike Hawes, chief executive of the Society of Motor Manufacturers and Traders, said the fall was not only due to uncertainty on diesel cars and the "cataclysmic fall in consumer confidence" but was also due to the effects of new WLTP emissions tests coming into force on 1 September. Car makers are struggling to complete tests on all models ahead of that deadline, resulting in delays.
Hawes added that other key reasons include model changes from certain manufacturers and model allocation per country changing globally at some brands.
New car registrations: first half of 2018 down 6.3%
European SUVs hit record high amid strong registration growth
While this initially appears a dismal situation, the bigger picture is more optimistic. Overall UK production figures for June, including both domestic and foreign demand, fell just 5.5% compared with June 2017, with 128,799 cars built. Cars made for export balanced out the weak UK demand, rising 6% year on year.
Half-year production figures down 3.3%
In the first half of the year, the number of cars built in the UK dropped by 3.3%, amounting to 834,402 units. In that period, UK demand dropped 12.9% and car exports fell by just 0.8%.
Hawes said the SMMT's earlier prediction that 1.6 million cars would be built in the UK in 2018 remained likely, representing a 0.2% drop on 2017.
He admitted that he was "surprised at the severity" of the almost 50% drop in UK demand in June but said he spoke to a number of car makers, all of whom described it as the "perfect storm". He was keen to stress that we "must not look at the month in isolation".
Hawes added that he expected the drop in UK demand to stabilise at a lower level of decline by autumn. More generally, the half-year manufacturing figures were "broadly in line with expectations".
Individual car makers do not release their individual UK manufacturing figures. However, Britain's largest car manufacturer, Jaguar Land Rover is believed to have produced around quarter of a million cars in the UK in the first six months of 2018, slightly down on last year. Jaguar Land Rover is not thought to have had many issues with WLTP testing, so its decline is more likely to be affected by falling diesel sales – something the car maker has previously flagged as problematic – and changing model cycles. The updated Range Rover and Range Rover Sport only started production in spring and a new Evoque is expected later this year, which is likely to mean people are holding off buying one.
Across the market, UK production is holding up better than UK car sales, thanks to the high number of cars exported. UK car sales in the first half of the year were down by 6.3% over the same period in 2017. That makes the UK the biggest shrinking market in Europe, according to Jato figures.
The importance of free trade
The SMMT also used the figures to continue its push for a tariff and barrier-free trade agreement in Brexit negotiations.
Nearly 81% of cars built in the UK in the first six months of 2018 were exported, with the biggest market being Europe. The region accounted for 53.4% of exports, or 360,270 units.
The second-biggest market was the US; 108,000 cars were exported there in the first half of 2018.
While the UK exports eight out of every 10 cars built here, it is also a major importer. More than 87% of cars registered by British buyers in the first six months of the year came from overseas, with more than two-thirds from the European Union.
Hawes said: "First-half figures are a reminder of the exports-led nature of UK automotive, the integrated EU supply chain and our mutual dependency on free and frictionless trade. The UK Government's latest Brexit proposals are a step in the right direction to safeguard future growth, jobs and consumer choice — not just in Britain but right across Europe.
"We now look to negotiators on both sides to recognise the needs of the whole European automotive industry which, combined, employs more than 12 million people. Any disruption risks undermining one of our most valuable shared economic assets."
Read more
Analysis: Are car makers ready for WLTP?
New car registrations: first half of 2018 down 6.3%
European SUVs hit record high amid strong registration growth
Vans to be ousted from UK cities in new urban transport plan
Source:: Autocar