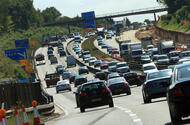 After a disheartening July, figures reveal that UK registrations picked up in August, although Volkswagen suffered a 25% drop
UK new car registrations have regained speed after growth slowed in July, according to official figures from the Society of Motor Manufacturers and Traders (SMMT). According to the SMMT, 81,640 cars were registered in the UK in August 2016.
After rising by just 0.1% in July, August's UK registrations grew by 3.3% compared with the same month in 2015. The figures suggest that it was fleet registrations which bolstered the market, however, as private registrations fell by 0.2%.
Year-to-date registrations are 1,680,799, up by …read more
Source:: Autocar