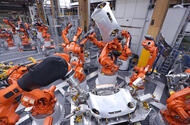 The Society of Motor Manufacturers and Traders (SMMT) has called on the government to secure an interim agreement with the European Union to safeguard the future of the UK motor industry until a final agreement on Brexit is reached
SMMT boss says automotive sector will suffer if Brexit occurs before ongoing trading relationship is finalised
The Society of Motor Manufacturers and Traders (SMMT) has called on the government to secure an interim agreement with the European Union to safeguard the future of the UK motor industry until a final agreement on Brexit is reached.
Formal talks over Britain's withdrawal from the European Union began in Brussels yesterday, and are expected to take up to two years to complete.
SMMT chief executive Mike Hawes said that UK automotive industry accepted Britain would be leaving the EU, but raised doubts whether a final deal on a future relationship could be finalised and implemented by March 2019.
Hawes said it was vital an interim agreement be secured by the UK government to safeguard the UK motor industry.
«Any Brexit agreement will be hugely complex,» said Hawe. «We [the UK] must negotiate with 28 countries, each with their own vested interests, making a March 2019 completion date to negotiations – as indicated by the triggering of Article 50 – feel somewhat ambitious.
«We need to be pragmatic – we are not going to be able to negotiate a plan of the complexity we require in that time and an interim deal would give us stability. We need no tariffs, frictionless trade and no uncertainty, as we have today, if we are to keep growing the industry during this period.
«Uncertainty risks death by a thousand cuts – this is an incredibly competitive global industry, with major investment decisions being made all of the time. If there is any uncertainty it erodes our competitiveness, because the companies making the major investments don't like uncertainty. If we have an interim deal that maintains what we have today then it allows time to negotiate a full deal without the risk of the UK dropping off a cliff edge that could undermine our industry permanently.»
Read more
SMMT: Brexit deal 'a priority' for next government
EU single market 'critical' to UK automotive sector
Source:: Autocar