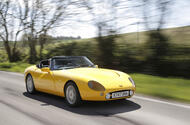 With a new generation of TVR sports cars on the way, are the older ones now dinosaurs? We reacquaint ourself with a Griffith – the best of the breed – to find out
To drive a TVR Griffith today is to experience that moment in your time machine when your hand slips on the lever and accidentally transports you back farther than you intended to go.
I know this car was built this century and, from its number plate, so do you. But that's not how it feels. It doesn't even feel like a child of the late 20th century, despite its design dating from the early 1990s. The '80s? Nope. The '70s, then? Try again. This car might have the look and performance of a reasonably recent sports car, but its heart and soul seem to have been wrought in the 1960s.
So why didn't we say so at the time? Well, we all know humans who bear their years spectacularly well and those that do not, so why not cars? Truth is, the Griffith is no longer a snarling, edgy sports car with quasi-supercar performance. Now it's just a nice old thing, a favourite uncle who'll sit you down by the fire, hand you a glass of scotch and tell you how it used to be.
To me, at least, the fact that a Griffith feels like a 1960s throwback is a perhaps unexpected but nevertheless entirely welcome turn of events. Any car spared the slow slip into oblivion goes through a cycle that progresses roughly from new and desirable to secondhand and affordable, and then from pointless old shed to appreciated and appreciating classic. Cars need time for their inadequacies relative to modern machinery to count for less than that charm inherent in all old things of power and beauty that were desirable when they were new. And some need more time than others.
And whatever its failings, power and beauty the old Griffith can do. Indeed, it's here to represent the very best of its brand – the car that best captures all that we've always wanted TVRs to be. Earlier cars were uglier, slower and less able; more modern ones were too truculent and difficult to drive and own. The Griffith was the high point, the ultimate development of the charmingly simple philosophy that had been core to the appeal of all TVRs made before it and which would forever after be eroded by the more exciting and dramatic but less reliable TVRs that followed.
New TVR sports car to use Gordon Murray's iStream Carbon process
If you want a 1960s analogy, Formula 1 cars reached that point in about 1967, when efforts to minimise drag resulted in the cleanest racing shapes of all time. But then designers realised the air was better exploited than avoided and things were never quite the same again.
What, then, do I recall? Certainly that the shape was at least in part the work of Iain Robertson; we used to work together on this magazine and did our first races in the communal office Caterham. His boy, Charlie, now does great things in sports cars, winning last year's LMP3 title in a Ginetta shared with Sir Chris Hoy.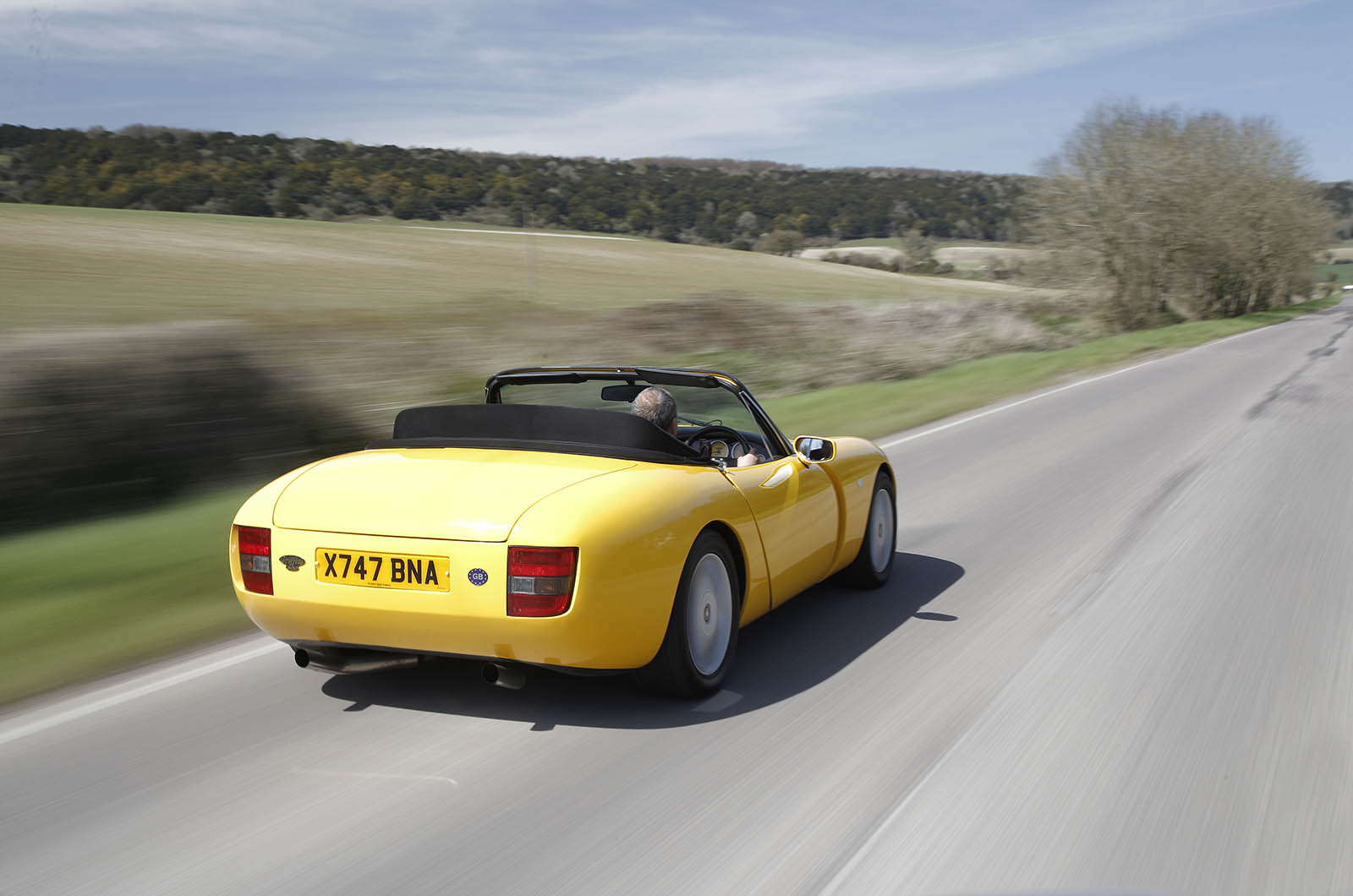 A rumour than can no longer be corroborated – because neither party is with us – is that at least one element of the car's shape was down to Ned, the dog of TVR boss Peter Wheeler, who, for reasons best known to Ned, bit into a lump of clay and spat out a chunk of improbable aesthetic excellence. It's probably untrue, but that means it's possibly true, providing those fragments of hope to which I choose to cling.
I recall a simple backbone chassis made from triangulated tubular steel with (rot-prone) outriggers. There's a double wishbone at each corner and different-sized wheels front to rear: 15s for those doing the steering, 16s for those doing the driving.
And then there was the powertrain. I really wanted a precatalytic converter 4.3-litre car for this test, but at the time of looking there just weren't any nice ones around. Their power – 285bhp – was nice, but they made the best noise of any Rover V8 I've ever heard.
TVR cars to be built at Circuit of Wales
Many Griffiths had standard 4.0-litre engines, which still provided decent performance for their 240bhp, but when I contacted Graham Munt, who has been selling TVRs at Fernhurst Motor Co in Surrey since 1983, he offered me this beautiful, 27,000-mile 5.0-litre Griffith 500 – and I was not about to say no.
The 500 turned out to be the ultimate Griff because, while plans to put TVR's home-grown straight six engine under the bonnet didn't quite come to nothing, by the time the car did come out, it was rather different and called a Tuscan. The 500's engine makes 340bhp and a beautiful sound, albeit slightly sanitised by the presence of catalytic converters. The camshaft, which should be quite spiky, can go a little soft after many tens of thousands of miles, but otherwise, if accorded the courtesy of thorough routine maintenance, these engines are strong. So, too, are their mightily constructed Borg Warner gearboxes – although not the sweeter but more fragile Rover transmissions used by early Griffs.
You sit low in the car and try to refamiliarise yourself. This is one of TVR's saner cabins, but you can still struggle with the basics, such as finding the door handle, which is actually on the transmission tunnel. The heating and ventilation and many unmarked buttons remain as mysteries to me to this day. The dials are hard to read and very yellow. The fit and finish would elicit gales of laughter and gasps of horror if tried today, but with the slightly baggy leather chair and off-the-peg steering wheel, it kind of fits the car's bluecollar character.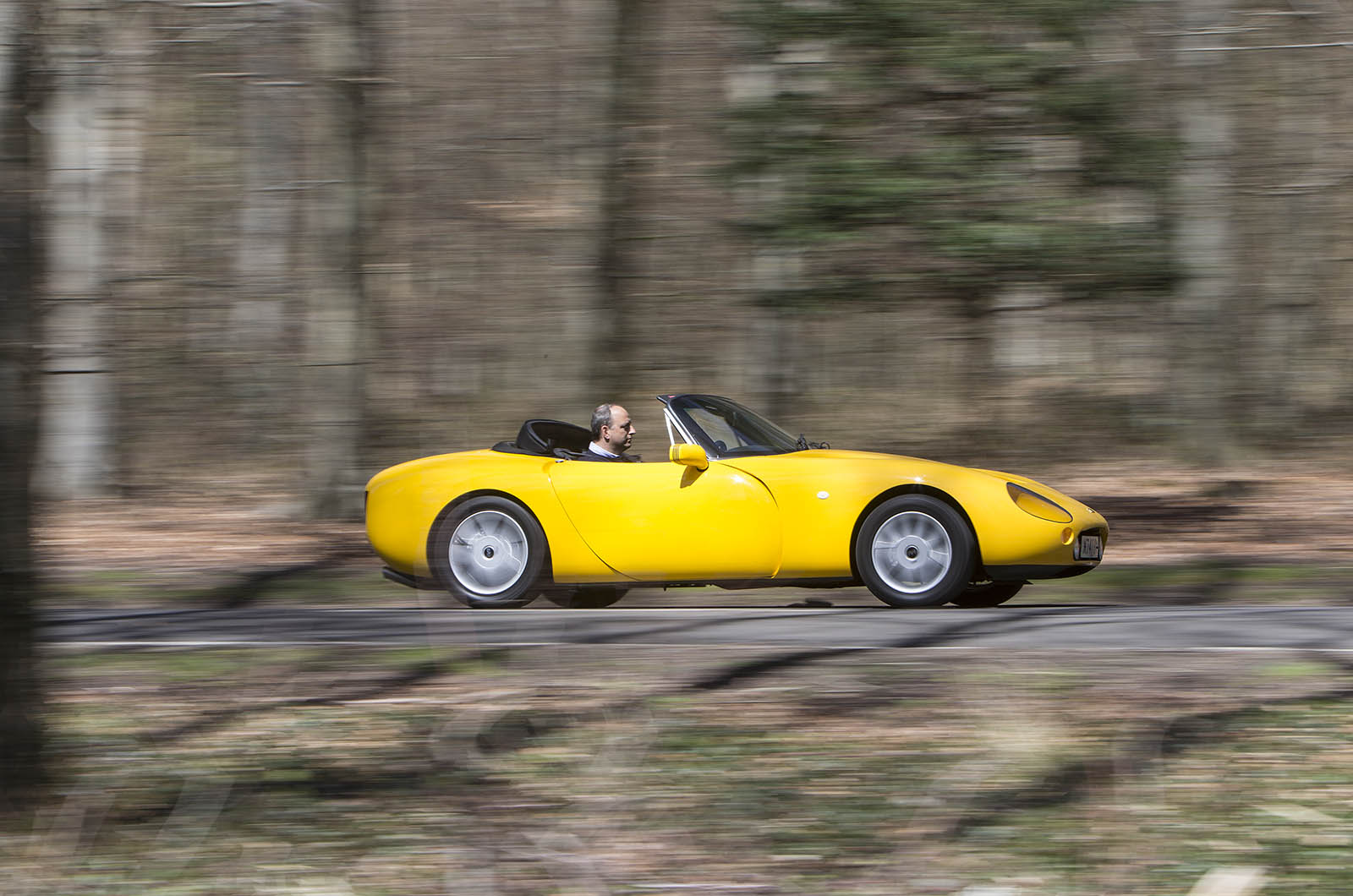 The engine doesn't howl, growl, roar, thunder, scream, shriek or wail. It woofles. As you pull out onto the public road for the first time …read more
Source:: Autocar