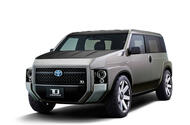 The chances of the Toyota TJ Cruiser making production hinge on public reaction around the world
The Toyota TJ Cruiser concept being shown at the Tokyo motor show has been created to test reaction among the car-buying public to a lifestyle SUV with a rugged look and carrying capacity of a van, its designer has said.
The TJ Cruiser's striking look was created at Toyota's design facility in Tokyo, but dsign chief Hirokazu Ikuma has confirmed that the car is under evaluation for launch globally, including in Europe. If reaction is positive and it did reach production, it would likely be based on the next generation of Toyota's TGNA platform, due to be launched around 2022
The boxy shape of the TJ Cruiser is inspired by a rectangular tool chest, and to reflect this look the interior is designed to be modular so that it can be adapted to carry passengers or luggage, and the body panels have been designed to be sufficiently rugged to withstand flexing or scratching if anything is balanced on the bonnet or roof. TJ stands for Toolbox Joy.
Although the car is a concept, engineers who worked on its conception say that a petrol or hybrid powertrain are likely should the TJ Cruiser make production, and that it is likely to be sold with a four-wheel drive powertrain.
A final decision on whether the TJ Cruiser is launched into the booming SUV market will be made after the concept car has undergone several customer clinics around the world.
More content:
Source:: Autocar