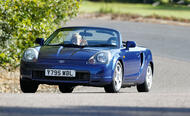 The Toyota MR2 offers two-seat, mid-engined thrills, and you can bag an open-top Mk3 for the price of a tired old hatchback
A mid-engined, rear-drive two-seater weighing just 975kg, powered by a 138bhp 1.8-litre four good for 0-62mph in 7.9sec: yours from as little as £300.
Okay, the seller of this particular £300 Toyota MR2 Mk3 is honest enough to admit that the engine is likely to go pop.
It's a good example to begin with, though, because there's every chance the problem it's suffering from is pre-cat disintegration, an event that haunts pre-facelift Mk3s (cars up to late 2002) and some later ones, too.
Basically, it's to do with the pre-cat in the exhaust manifold shaking itself to bits and/or ingesting engine oil that has escaped past the piston rings.
That's the bad news. The good news is that with the exception of some other foibles – such as a rustprone rear subframe, sticky rear brake cables and notchy steering – the Mk3 is a dependable (there are stacks of 130,000-mile daily drivers out there) and cheap-as-chips roadster that'll put a smile across your face, rain or shine. It's a real driver's car, with near-perfect weight distribution, a Torsen limited-slip diff and economy of around 38mpg.
Downsides? Unless your idea of a week's luggage is a washbag, you'll struggle to go on tour with a Mk3. There's simply nowhere to stash stuff. You could cram a few things into the spare wheel under the bonnet and some odds and ends in the cabin cubbies, but that's your lot. Practical the Mk3 is not.
We mentioned the facelift of late 2002. It's an important milestone. Prior to that, the Mk3 had a tough five-speed manual gearbox, but the facelift ushered in a sixth gear. Some say Japanese-spec 'boxes have better ratios, and they're a popular exchange unit with racers, but most people have few complaints with the standard cogs. Before 2002, there was an optional clutchless five-speed 'box, called a sequential manual transmission or SMT, operated by a lever rather than paddles. It, too, gained an extra gear and steering wheel buttons in the facelift. The MR2 also got cruise control, stability control and brake assist.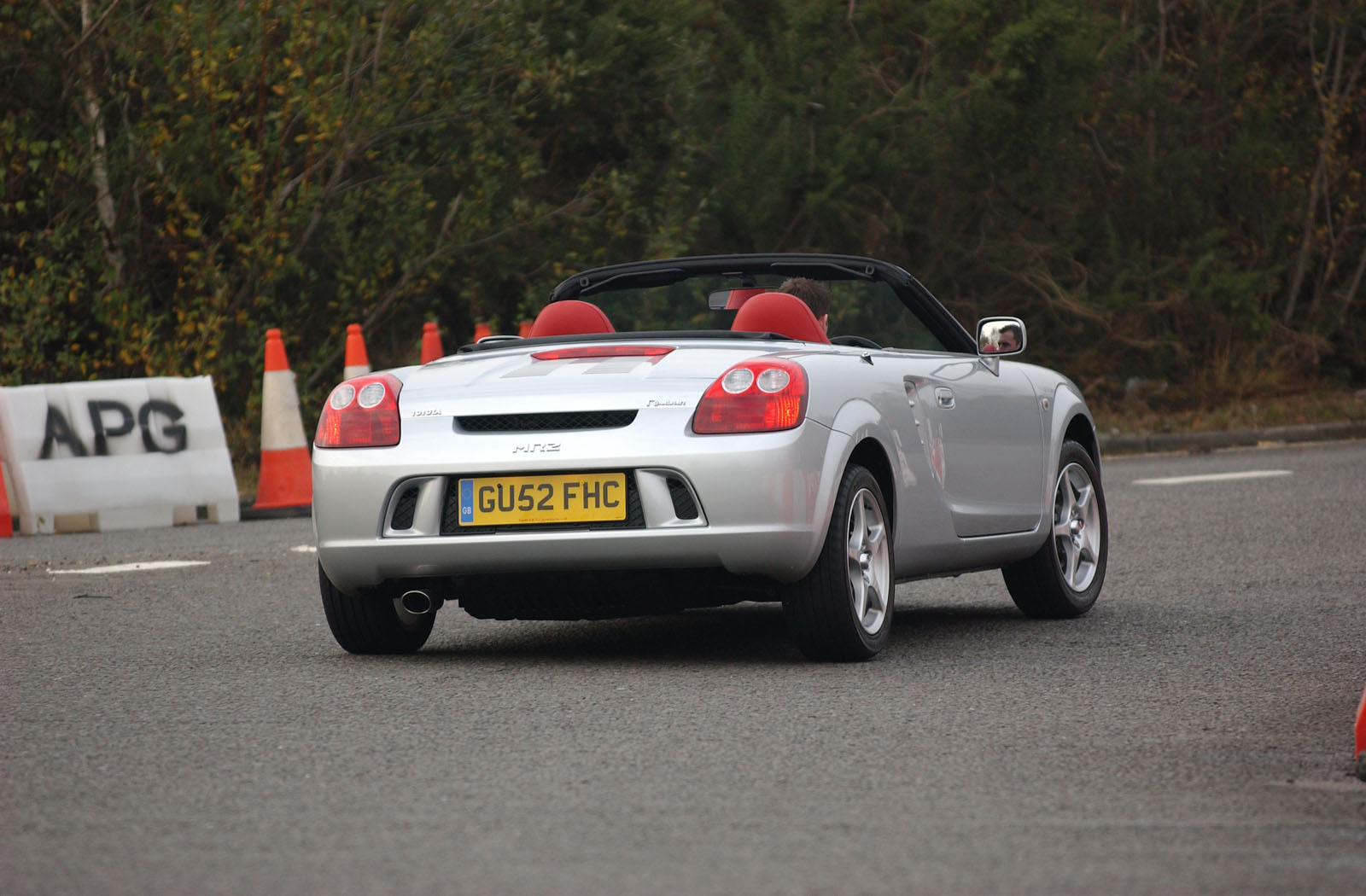 It's a rare bird, the auto, and there are some issues with the electronic control unit. It also knocks around 1.0sec off the manual's 0-62mph sprint time. However, enthusiasts say the faster-shifting, six-speed SMT makes the best Mk3, because it leaves you free to exploit the car's superb handling. For used car buyers, there's also the possibility that it hasn't been thrashed by a keen driver.
Throughout the Mk3's life, engine power remained the same, at 138bhp, meaning the development engineers had time on their hands. They didn't waste it. With the facelift, the car gained front and rear bracing to stiffen an already stiff body, as well as revised spring and damper rates to accompany an increase in wheel size from 15in to 16in.
Attention to detail: that's the secret of the MR2 Mk3. With prices on the floor, it's also the reason you should buy now before word spreads.
An expert's view…
BEN BEVAN, MR2-BEN
"You can tweak and personalise the MR2 Mk3 to your heart's content. By fitting adjustable coilover sets, you can set it up soft for the week and firmer for the weekend. BC Racing's RA suspension kit costs £763. Some people like to make their MR2 stand out with a C-One bodykit — £460 plus paint and fitting for a full kit. Others are just happy to fit an exhaust back box by Blitz or Cobra — £460 for the Cobra."
Toyota MR2 problems…
ENGINE
Do a fault check via the car's universal OBD2 diagnostic port. Biggest issue is the pre-cat in the exhaust manifold breaking up and the possibility of bits entering the engine. Early signs are the lambda oxygen sensor warning light and excessive oil consumption. Facelifted cars (2003 on) had revised piston rings and a more secure cat matrix, but the problem still occurs.
EXHAUST
Pre-cat may have been removed or a de-cat exhaust manifold fitted, but as long as the main cat is in place, it should pass the MOT test.
STEERING
Front steering knuckle (where the column joins the rack) wears, causing a notchy action and reduced selfcentring. Budget £220 for a Toyota part or have it reconditioned for £100. Power steering brush pack fails. Rear track adjusting bolts can seize and snap, taking expensive Toyota-only adjusting arms with them.
BRAKES
Rear brake calipers and cables seize. Cables are a five-hour job to replace, because the fuel tank has to come out.
CHASSIS
Rear subframe rots and welding it isn't an option for the MOT test. It often goes undetected behind a plastic cover.
SUSPENSION
Dampers can fail, but because the car is so light, the springs disguise it. Bushes wear. Replace them with polyurethane parts (£400 for the kit).
INTERIOR
If it's wet behind the seats, check the drain holes at the rear of the hood are clear. If buying a hard-top, ensure it has a fitting kit (a new one is £460).
Also worth knowing…
If you're worried about the pre-cat risk, you can take pre-emptive action by swapping the pre-cat exhaust manifold for one without. A de-cat exhaust manifold is about £180 plus fitting.
Toyota MR2 prices…
£300-£1500
Lots of early, pre-facelift cars in mixed condition. Some decent buys here.
£1550-£1950
Early 2003 facelift cars with high mileage plus tidy earlier models.
£2000-£2450
Good early pre-facelift cars plus low-mileage post-facelift ones.
£2500-£3250
Lots of late-plate (05 and 06) postfacelift cars, generally in good nick.
£3300-£3995
Pick of the best 05-06 cars plus some strongly priced pre-facelift examples.
£4000 AND ABOVE
Priciest pre-facelift and post-facelift cars, with mileages around 30k.
John Evans
Source:: Autocar