Will a basic – and we do mean basic – Land Cruiser cut it as a daily family workhorse? Six months with one should be enough to find out
Why we're running it: To see if a utility vehicle can also be an endearing everyday vehicle
Life with a Toyota Land Cruiser: Month 1
A 4×4 full of happy surprises over distance. Just watch out for pranksters in the back – 31st October 2018
When the Toyota Land Cruiser arrived at Autocar Towers it had barely 60 miles on its odometer, but now, eight weeks later, it has 6152. I've been away for at least three weeks and when I'm around it's not the only car I drive. Maybe that's why I'm tired.
The Land Cruiser is a short, rugged, body-on-frame bruiser with a live rear axle and low-range transfer gearbox. So naturally the vast majority of those miles have been on the motorway.
Where, to my surprise, the Land Cruiser is actually really pleasant. Yes, it's high, at 1838mm tall, and at 4565mm quite short (about halfway between a Ford Focus hatch and estate length). But it's still very stable, immune to crosswinds and its tyres cut through puddles securely. It rides quietly and relatively smoothly – albeit there's some head-toss owing to the height and unsophisticated, heavy rear end.
It also has other characteristics you wouldn't associate with making for relaxed long-distance cruising: manual air-conditioning, a manual gearbox, and an absence of DAB digital radio. But I seem to find the right temperature easily and the manual is smooth, if long of throw.
And there's a USB socket nestled behind a small panel – presumably sensibly placed to keep dust and grime out if you drive in that kind of environment rather than spending half of your week on the M40. Which means I've also discovered podcasts. I'm so down with the kids.
Worse, though, is that this 3dr Land Cruiser doesn't get a spare wheel as standard. In fact, you can't spec a 3dr with a full-size or even space saver at all, despite one being available in other countries, as an option, mounted to the tailgate.
I know the LC has big, knobbly, tyres, less prone to puncturing than a saloon's, but there's no excuse for not having a spare on a rufty-tufty 4×4. Even one that is great at cruising.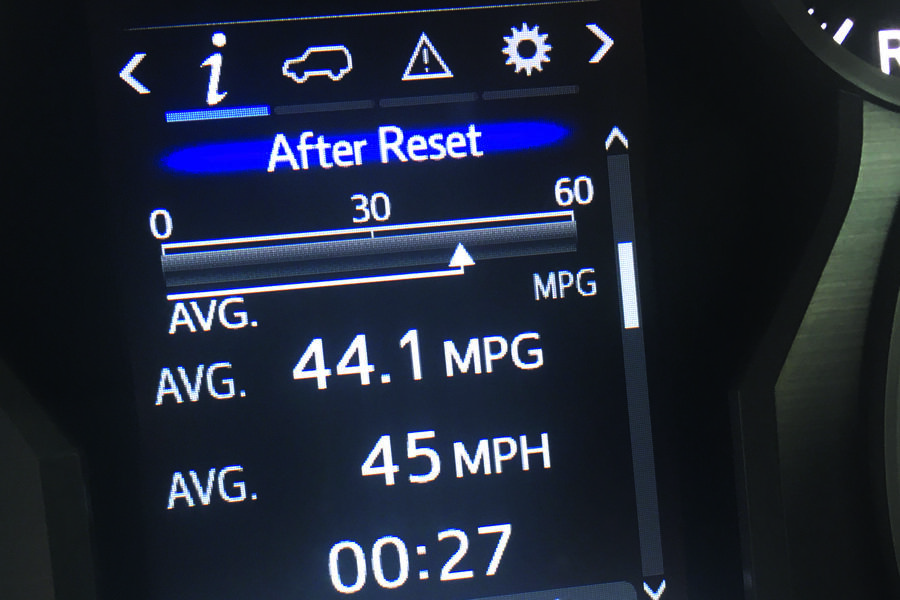 I can't remember the last time I drove a car that offered such a variance in fuel consumption, at least not in normal driving. Usually, the Land Cruiser is returning around 31mpg, but it's possible to take that to the mid-20s if you're driving badly, while the other day I drove like my Dad and managed 45mpg on the way home, thanks to using hardly any throttle and a spot of light slipstreaming on the motorway.
Aside from that, the Land Cruiser has established itself as a very useful tool. I drove it to North Wales for our annual Britain's Best Driver's Car feature. It was nabbed by our video production team because it's good for car-to-car filming and holding a considerable amount of kit.
The short 380-litre boot rises to 720 litres when you fold the 60/40 back seats down, a two-stage tumble process. The backs fold first, then you roll the whole thing forward, where they move towards the fronts and lock in place, leaving storage space in the rear footwell.
Rear seat space is surprisingly generous. Rear passengers can fold the front passenger seat out of the way by kicking a lever on it, which helps them reach the door. (Or if somebody's sitting in said front passenger seat, kicking the lever drops the seat back at great speed, which my lad thinks is hilarious. Front seat passengers do not agree.)
At 5800 miles, the AdBlue warning light came on, saying I had to top up the additive tank within 1500 miles. I was about to stop anyway, so I bought 10 litres of AdBlue, of which it took about 9.5 litres, via a filler beneath the bonnet. Next time I'll know to ignore the light for a bit in the hope that a whole 10 litres will fit, to save me having a container with half a litre of liquid sloshing in the boot. Either a more reluctant warning light or a marginally bigger tank would be dandy.
Love it:
REAR VIEW FOR PARKING Door mirrors are huge, so placing the sides of the car in parking spaces is a doddle.
Loathe it:
LEVER ERGONOMICS The fuel filler lever is right next to the bonnet release. I haven't pulled the wrong one yet, but give it time.
Mileage: 6152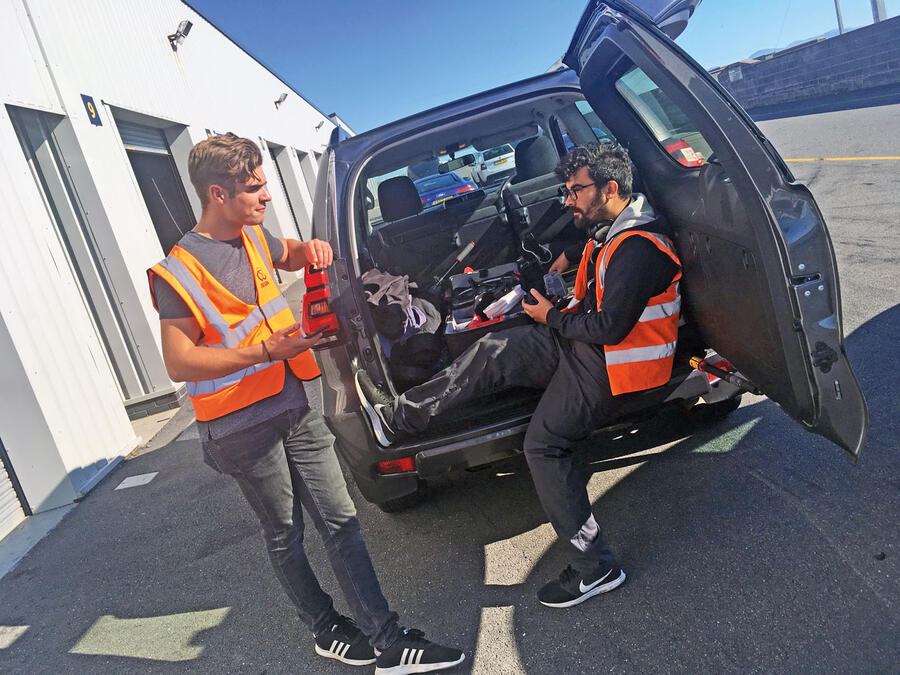 Tailgate is practical – just like the rest of it – 10th October 2018
The Land Cruiser has a side-hinged tailgate on account of some versions carrying a spare wheel on the door – those variants don't get an opening back window like this one. The main tailgate, though, has a gas strut which can be twisted to lock it in the fully open position, to prevent the door slamming closed in the wind or on a slope.
Mileage: 3200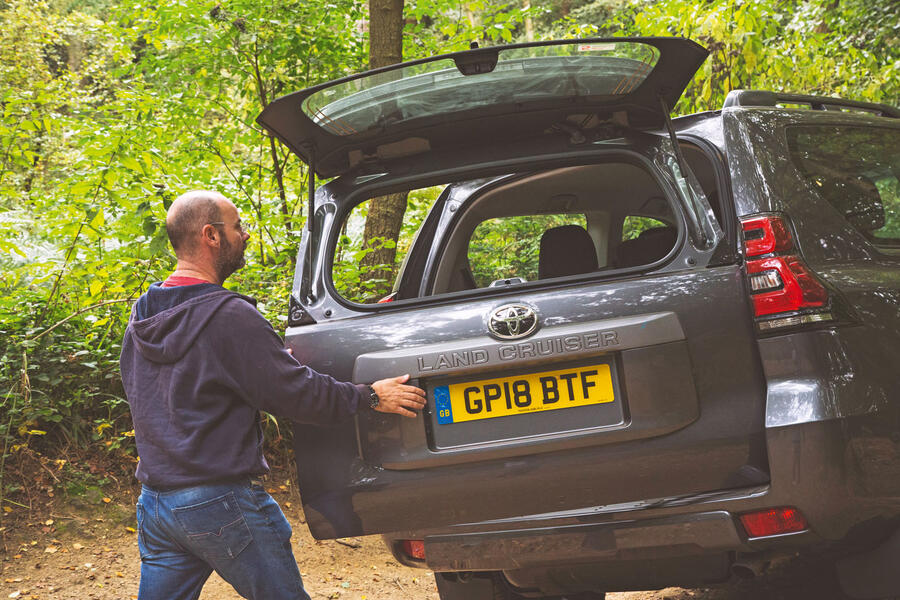 Welcoming the Land Cruiser to the fleet – 26th September 2018
Here is, I think it's fair to say, a specification you don't see every day. Unless you work for the United Nations, presumably. And even then, it's probably a five-door.
I have small hunch, though, that this, the three-door Toyota Land Cruiser of the latest generation, will become a slightly more familiar sight on British roads than previously, owing to the demise of the Land Rover Defender.
I feel a bit bad comparing the two because, on even the quickest acquaintance, the Land Cruiser shows itself to be vastly superior to a Defender in terms of ride comfort, engine quietness, interior plushness, audio sound, fit and finish, control weight comfort, heating and ventilation, wind noise, turning circle, fuel consumption… well, look, just everything, basically. But I wonder …read more
Source:: Autocar