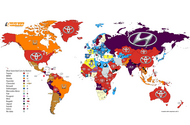 The Japanese carmaker is the most popular car brand on Google globally, while BMW and Hyundai come in second and third place respectively
Toyota is the most searched car brand on Google globally, according to a new study.
Despite Toyota recently losing its title of the world's biggest carmaker to Volkswagen, the Japanese firm was most popular in Google searches in America, China, Australia and large parts of Africa.
US car parts firm Quickco sourced data from 193 countries worldwide. Toyota topped the charts, with the most Google searches in 74 countries, while BMW was in second place with 51 countries and Hyundai was in third with 17 countries.
The data also showed that the popularity of car maker searches doesn't necessarily correlate to the home country of those brands. Only Germany (BMW), France (Renault), Sweden (Volvo) and Italy (Fiat) had a homegrown brand at the top of the league.
By comparison, Hyundai was not the top search of its native South Korea, with internet users preferring to search for BMW. The German car maker also topped searches in Japan, despite being home to both Honda and Suzuki.
British brand Jaguar was only most searched in Belize in central America, while Mini was popular in Laos, Nepal and Yemen.
Only one country had a supercar brand as its most searched-for on Google; Niger. Its citizens searched for Bugatti above any other car maker.
The study did not include countries from which it is difficult to obtain data such as North Korea, Iran or Cuba. Quickco also noted that while these manufacturers top individual country's Google searches, it doesn't necessarily mean more people searched for these brands. For example, small or sparsely populated countries such as the Marshall Islands and Mongolia don't have a big population.
Source:: Autocar