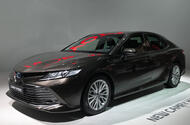 Electrified saloon will fill void left by departing Avensis in early 2019
Toyota has shown the Camry at the Paris motor show ahead of its reintroduction to Britain in 2019 after a 14-year absence.
The Camry fills the void left by the Avensis and presents a new rival to the Ford Mondeo. The car has remained on sale in other markets and ranks as the world's best-selling saloon, will come exclusively with a hybrid powertrain that is based on a 2.5-litre four-cylinder engine and electric motor.
This system, already offered in the hybrid version of the RAV4, will be self-charging, meaning no pure-electric running will be possible. It makes the Camry a rival to the likes of the Mondeo Hybrid and Volkswagen Passat GTE.
In pictures: the greatest Toyotas ever made
The latest Camry, on sale globally since 2017, is underpinned by the Toyota New Global Architecture (TNGA) platform, which is also used by the Prius, C-HR and Auris, as well as the RAV4. Toyota said the Camry would be tuned for Europe, suggesting cars sold here will offer sharper handling.
Toyota will announce UK specifications in the run-up to the car's market launch, expected to be in early 2019. Due to its larger size, it's likely that the Camry will cost more than the departing Avensis. A starting price of around £30,000 is expected.
The brand is gradually pulling the British-built Avensis from UK sale due to sluggish demand. UK Avensis sales fell to just 3473 units last year, 1660 fewer than in 2016. However, the larger and more premium Camry is predicted to be more popular with fleet buyers, suggesting it could dwarf those numbers.
The Camry was offered in Britain from 1983 until 2004, when it was removed due to falling sales. However, the model has remained a strong seller in other countries including the US. It has sold in more than 700,000 units globally.
More content:
Ford Fiesta ST-Line long-term review
Mercedes-AMG C43 Coupé 2018 review
Source:: Autocar