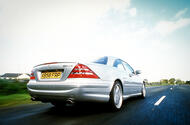 Mercedes-Benz CL55 AMG – Produced 2001-2006 Price range £7000-£13,000 We'd pay £9950 See Mercedes CL55 for sale on Pistonheads

It was with its 55-badged generation of tuned factory Mercedes models that the growth spurt that has taken AMG to the brink of launching its own hypercar started. Having been known for a handful of ultra-rare-groove saloons throughout the 1980s and 1990s, the company showed us the SL55 in 2002, and followed it with supercharged versions of the contemporary E-Class, S-Class and CL coupé. CL55s tend to be the most affordable of the lot today, and they pack a hulking 493bhp.

Merc's famous M113K supercharged V8s have been known to develop cooling problems, so check for a healthy radiator (and no coolant leaking into the transmission lubricant) in any car you're considering.
We prove that supercar dash is accessible for supermini cash
This piece really doesn't need much explanation beyond the headline.
The very fact that there's one way to put a 400bhp car on the driveway for less money than most families spend on a supermini deserves a cheer – and we're bringing you 10 of the best options.
Some of these cars should qualify straight away, others with a bit of light tinkering and one or two with some not-so-light tuning.
Source:: Autocar