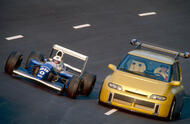 In 1995, Renault teamed up with Williams to celebrate the tenth anniversary of the Espace MPV. We took a ride in their 800bhp creation
Despite a dubious start when it was launched in 1985, the Renault Espace went on to win over the British public and kick off the MPV trend, much in the same way the Nissan Qashqai did 20 years later for SUVs.
But after a decade on sale (the Espace II of 1991 was essentially just a reskin of the original), and in the face of upcoming competition from Chrysler, Citroën, Fiat, Ford, Honda, Peugeot, Vauxhall and Volkswagen, Renault felt it needed to make some noise about its people carrier.
And what better way to do it than by teaming up with the Williams Formula 1 team, which was then at the peak of its powers, having dominated the 1991, 1992 and 1993 F1 world championships with a Renault V10 powering its cars?
Thus the one-off Espace F1 was created. Built by Renault's production partner Matra, it was an extreme machine. It was built on a carbonfibre chassis, the aft section of which was sourced directly from the Alain Prost-piloted 1993 Williams FW14, suspension and all. The body was a carbonfibre-reinforced version of the standard Espace's bodywork with appropriate bulges, vents and spoilers affixed.
Power came from the FW14's naturally aspirated 3.5-litre, 40-valve V10, producing around 800bhp and 520lb ft and capable of revving beyond 13,000rpm. This was mounted in the middle of the car, where the kids usually go. It sent drive to the rear wheels through a six-speed, semi-automatic sequential gearbox.
Floor it from a standstill and you'd hit 62mph in 2.8sec, 120mph in 6.9sec, and top out at 194mph.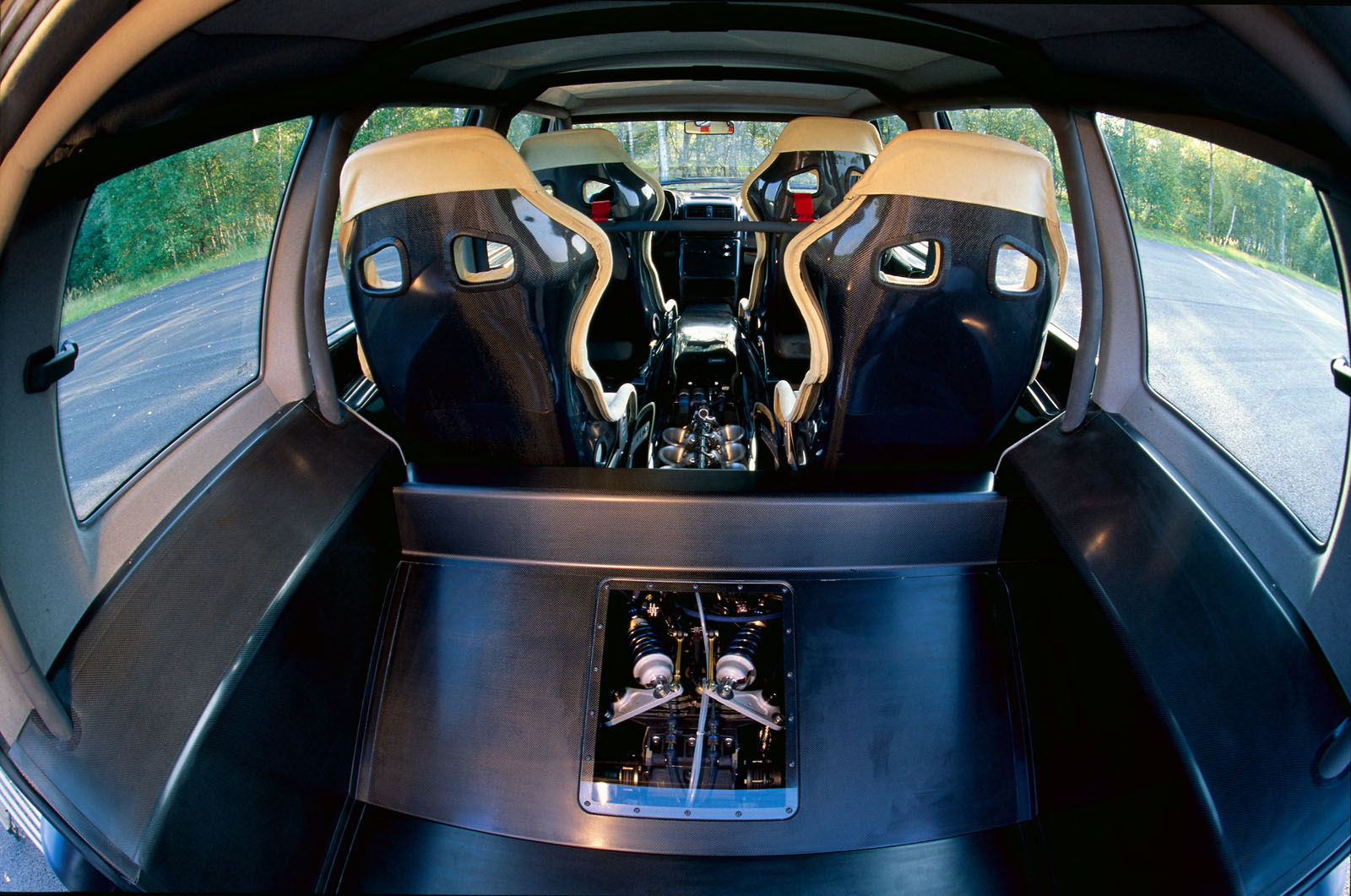 Stopping power came from huge carbonfibre disc brakes, which Renault claimed could bring the Espace F1 to a stop with just 10% more road than a regular F1 car.
However, this ridiculous creation generated up to 2g of lateral g-force, yet still had a high centre of gravity and a 1300kg kerb weight to contend with, meaning that it cornered «sometimes with three, sometimes with two wheels on the ground». A limited-slip differential and traction control system were small consolation.
On 28 June 1995, Autocar's Gavin Conway took a ride in «the world's silliest Espace» with the former F1 driver who helped to develop it, Eric Bernard.
«It's time,» Conway began. «Race harness yanked hard enough to knock the breath out of me. Lots of people wagging thumbs up. Seating position feels as high as the road car's, dashboard is hysterically funny, road car-accurate right down to the little carbonfibre glovebox. Earplugs with intercom to driver shoved deep into my ears. Eric, you wouldn't try to scare me now, would you?»
«No no no no,» replied Bernard. «I'm a nice man, me. Heh heh heh.»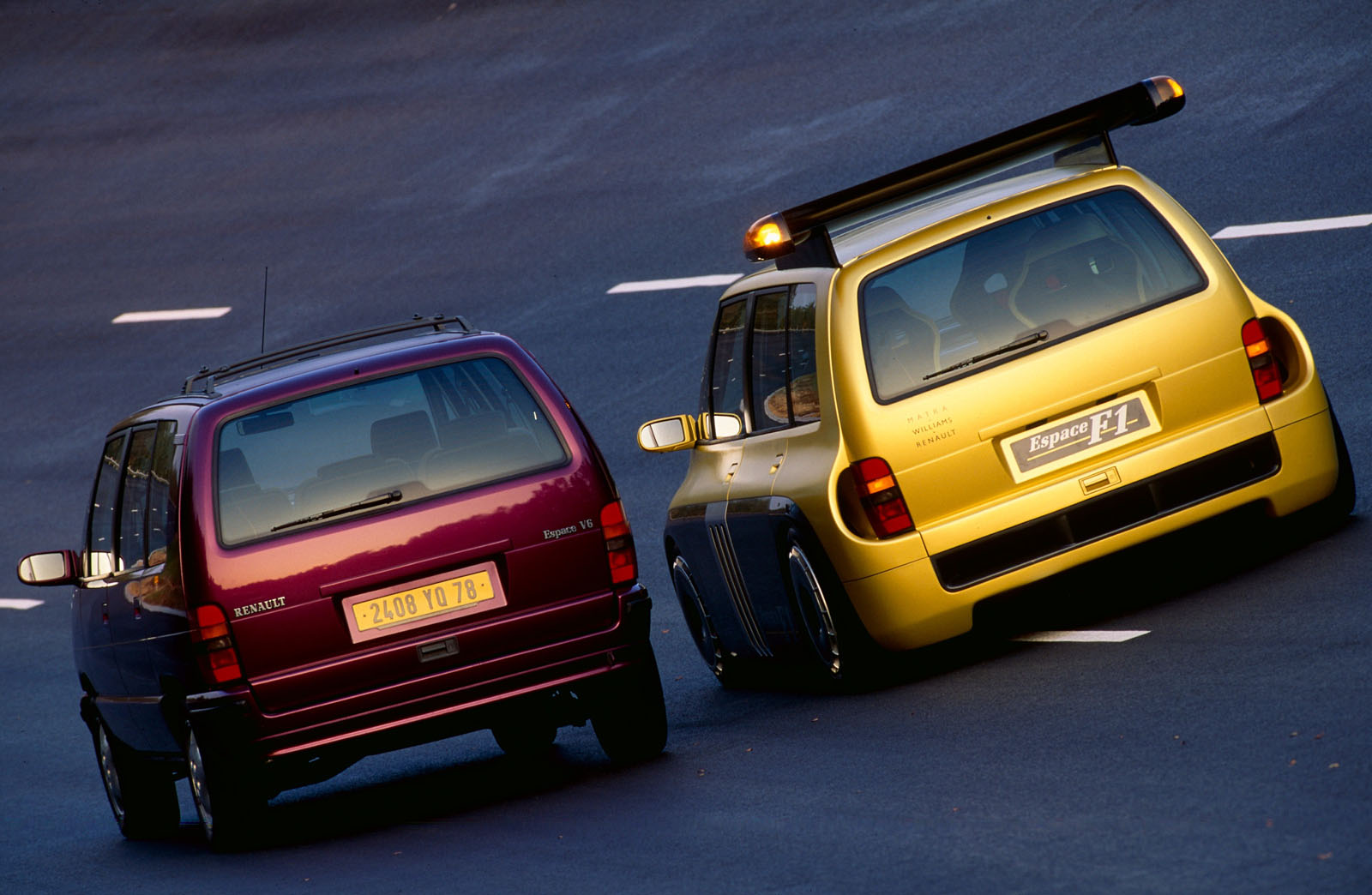 Conway continued: «Starter motor shriek, interior explodes, high-frequency vibration through the seat. Eric barks at me through the sound haze, I nod furiously, not understanding a word, enjoying his charming Fraunch accent.
«Into first, clutch comes out for the last time until we stop. We are on fresh tyres, Eric has explained, and will need to take it easy for the first lap. Heh heh heh.
«Easy. Slammed in the back by a moving freight train, fixed rigor face mask, sucked back, harness going to slice me into four sections, noise daggering about the cabin.
«Heart rate drops to a manageable 140bpm. The staggering acceleration/deceleration combo begins to make sense. The sound is glorious, like a Hollywood version of the real thing, cathedral amplified in the carbonfibre tub, the fury of it matched perfectly with the belly-sucking thrust. Eric's little thumbs flick away at the steering wheel buttons, blammin up and down the 'box, sawing at the wheel like a rally hero, emphasising just how hard this crazy limo is to contain. Down the pit straight, a final blam puts us into top, where we stay forever, where 180mph approaches, where imagination fails.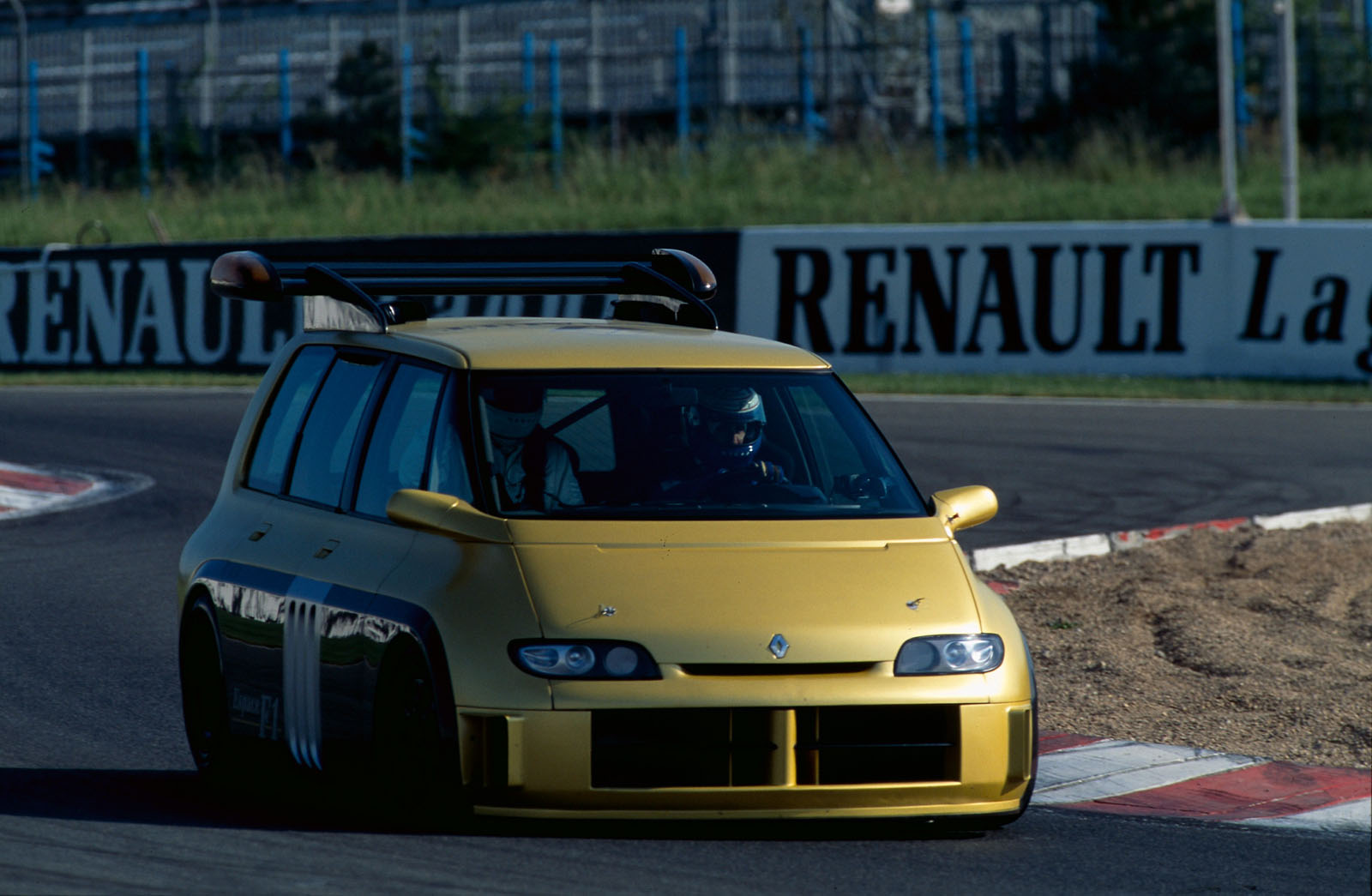 «Over. Engine shuts down, no flywheel moan, just instant silence, broken by the usual grateful oh-migod babble. But Eric is already being briefed for his next passenger, already on his way from the private jet park outside the track. Big noise is coming.
«The Renault Safrane barely settles on its coils when the front doors pop open and suited minders run to the back. A wheelchair appears and Frank Williams is gently lifted into place. Struck deeply at the profound helplessness, arms and hands useless at his sides. It's difficult to know how to feel, instinctive but no sorrow here, thanks very much. Frank Williams, hero constructor, race maker. Come for a ride.
«The Espace F1 warms up its tyres, wailing past the pits. Then Frank is in, belts tightened, helmet politely declined. 'Not too fast,' somebody says to Eric. As if. This will be Frank's first time in a car powered by one of his very own race V10s, the first time he will feel a little of the fury that the Williams team has created.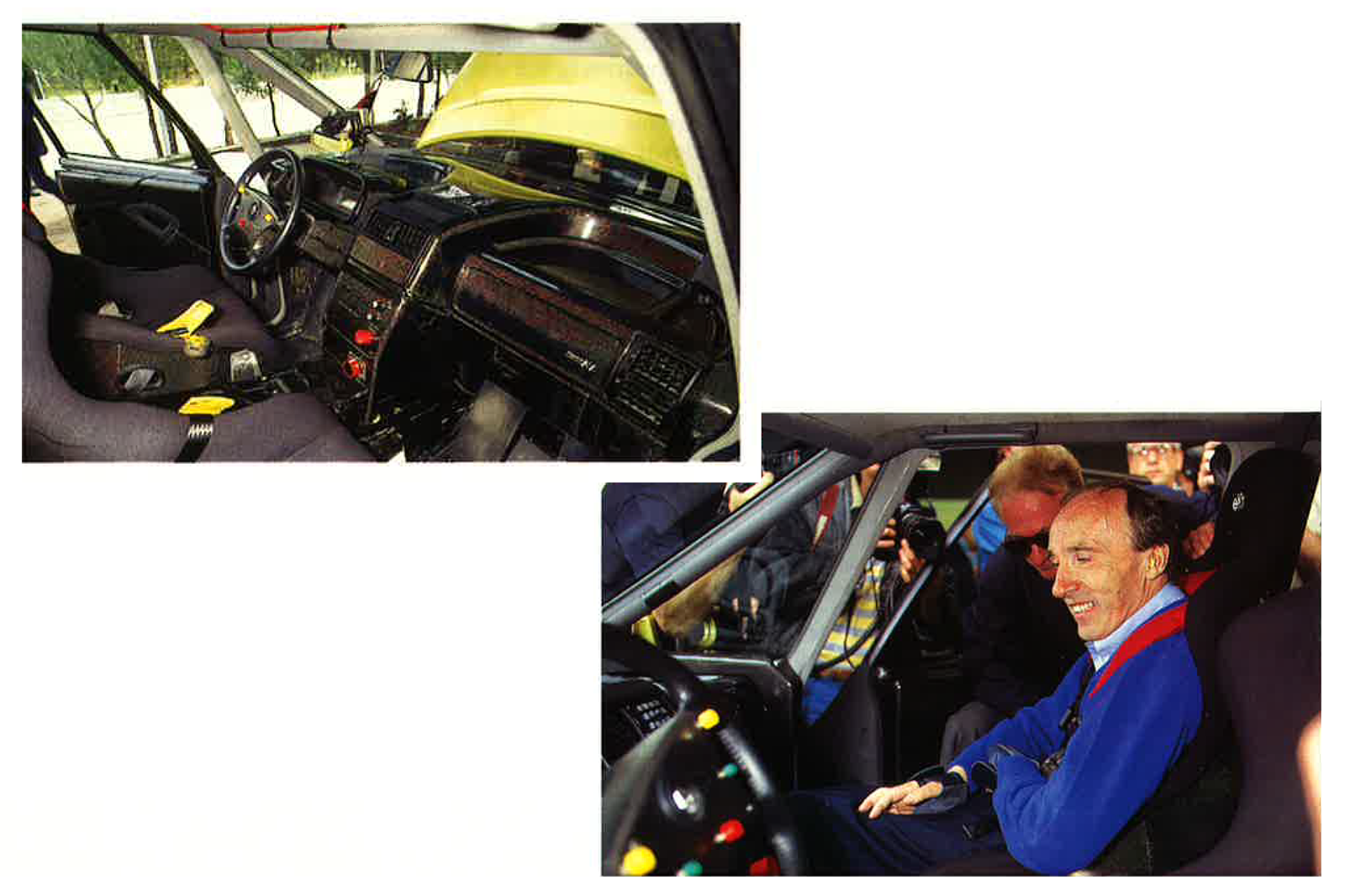 «Good as his word, Eric pussyfoots around the first lap. Second lap, seems like someone's had a word. Eric ups the pace, makes the Espace F1 sing a little song for Frank. Blamming down to first, back into the pits, Frank is media-swarmed, fielding 'how does it feel' in four different languages. He rocks back into his seat, mimicking positive g-force. He never does stop smiling, mostly PR but some of it heartfelt, some of it plainly the result of Eric's gentle efforts in the F1 Espace.
«Yeah. It wasn't such a silly idea after all.»
Source:: Autocar