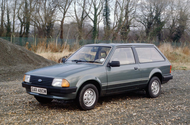 The Escort Estate was initally available with only three doors; a five-door model was added later on
On 10 January 1981, we subjected the third-generation Ford Escort to our Road Test in its most practical form. How was it against the likes of the Peugeot 305, Renault 18 and Vauxhall Astra?
As with the Anglia that preceded it, and indeed the Focus that succeeded it, the Ford Escort found continual favour throughout its long life as one of Britain's best-selling cars.
The original Escort launched in 1968, the second in 1974 and the third in 1980.
We tested the latter in its fast form, the XR3, on 15 November 1980, and were mightily impressed, but on 10 January 1981, we found it how it would cope with its natural role, that of a spacious family transporter, in Estate form.
Equipped with a four-cylinder 1.6-litre CVH petrol engine, producing 79bhp and 92lb ft, a four-speed manual gearbox and front-wheel drive, our test car, the 1.6 L, was priced at £4717.
This put it on equal footing with its, er, esteemed contingent of rivals comprised of the Morris Ital, Peugeot 305, Renault 18, Talbot Avenger and Vauxhall Astra Estates.
In our test Escort Estate, we achieved 0-30mph in 4.0sec, while 0-60 took a "most creditable" 11.9sec – "in the same class as an Alfa Romeo Alfasud 1300Ti, Fiat Super Milafiori or Triumph Dolomite".
The engine itself proved to be "reasonably flexible", and with a "nice, fast idle". It also had a "sensibly high top gear figure of 19.2mph/1000rpm," making it "reasonably quiet at 90-plus mph, and more importantly, sensibly economical. We achieved an average of 32.1mpg – much better than the 28.7mpg of the Escort 1.3 Ghia and more frugal than all of its five rivals.
Top speed was 102mph, reached at 5300rpm, although when really pushed, the engine would "nerve-stretchingly scream" to 6520rpm.
The gearchange, meanwhile, we found to have "positive movements" and a light clutch with "progressive take-up and no judder".
Noise on the move we found to be "acceptable," with Ford having done a good job of preventing the Escort's bigger derrière from becoming an echo chamber.
Ride, while vastly improved over earlier prototypes we had tried, was still not "open to any particular compliments," feeling harsh, especially when compared with its amenable aforementioned French rivals.
The Escort's employment of independent rear suspension was more visible in the Estate model, which adopted a "slightly awkward-looking negative camber attitude at the rear when fully laden," although with a little tyre pressure adjustment any negative effect this may have had on the handling was completely negated.
This was a good job, too, because, as it is today, handling was one of the better attributes of the family Ford. We found the Escort Estate to handle "extremely well," being "easy to handle in crowded town streets and easily manageable even at parking speeds," while at higher speeds it only understeered when you pushed very hard. Our qualms were a slight leftward wander at the steering's straight-ahead and the unusually prevalent effect of the wake of lorries upon the car when on the motorway.
What of practicality, though, the main purpose of an estate car? Well, although just right for the average man, taller drivers found their legs up against the steering wheel. The seats themselves were firm and comfortable – and had head restraints (a £25.53 extra!).
The dashboard was neat and tidily laid out in our opinion, although our car was in mid-range L spec, meaning many of the features we considered necessities (such as rear wipers and electronic monitoring systems) weren't fitted.
The boot was impressively practical. "The hatchback has become the practical man's car, but the estate still wins when it comes to sheer carrying ability," we said. The rear seat bench folded as standard, giving a load area nearly 62in long, over 39in wide and 33.5in high – "a volume of 27.5cu.ft with the seat in place, or 57.6 with it folded." Plus, the tailgate was helpfully held open by gas struts, while the ribbed-steel floor had an easily removable protective mat.
There were seven models in the Escort range. Base trim (from £3757) came with the 1.1 and 1.3 engines, L offered added a 1.6 unit to that list, while range-topping GL cars offered the two bigger units.
In conclusion, we said of the Escort Estate 1.6 L: "The original rear-drive Escorts had reputations of being hard-working but rather basic workhorses. The new model is something of a revelation in just what steps can be made, for the test car was the one-up-from-base model. The 1.6 engine proved to be both lively and economical.
We deemed it marginally better than the Astra and 305, but the albeit-priciest 18 was our pick of the range. The Avenger and Ital also had benefits in their greater mechanical simplicity, but overall, while in a tight market, we correctly predicted that "despite its rather harsh ride, the Escort will have all the success of its predecessor».
Source:: Autocar