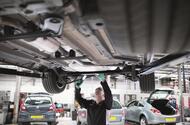 Plans to move the date of a car's first MOT to after four years have been met with disagreement from owners, says the SMMT
A car's first MOT after three years should not be pushed back to four years, according to SMMT (Society of Motor Manufacturers and Traders) research, with 76% of drivers wanting to keep MOTs at their current timeframe.
The public's trust in the MOT test procedure was affirmed by the polls, which found 83% agreeing that the £45 test fee is worth their peace of mind, and three quarters opposing the government's plan to move the test to four-year old cars, rather than three. 68% agreed that having a car's first MOT in its fourth year, rather than third, put road users at risk. 25.6% thought the proposed changes would not risk road users' safety.
The biggest majority was found in how little the public would trust a used car more than three years old without an MOT; 89% said they would be unlikely to buy one. The SMMT also revealed that 17% of all first MOTs on cars are failed; the cars do not meet minimum safety requirements.
Read about the proposed diesel scrappage scheme here
It estimates that around half a million more cars which would otherwise be deemed unroadworthy would be on Britain's roads, should the plan to postpone a car's first MOT by 12 months be passed; and after a previous, similar proposition, the Department for Transport estimated that 71 more people would die as a result of these unroadworthy cars each year.
The government alleges that the MOT test could be safely moved to four years, due to advances in technology such as tyre pressure monitor systems and greater wet weather tyre performance. The SMMT responded, pointing out that these systems do not increase the longevity of parts subject to wear and tear.
The government has previously considered postponing a car's first MOT in 2008 and 2011, but both bids failed. Light failure and tyre baldness, as well as brake and suspension problems are cited as the most common causes of failure cars' first MOTs.
Around £100million a year would be saved by motorists across the country if the test was postponed by 12 months; but the risk isn't worth it, says SMMT chief executive Mike Hawes: "The MOT is an essential check on the safety and roadworthiness of vehicles. Extending the first test for cars from three to four years is not what consumers or industry want given the serious risk posed to road safety and vehicles' environmental performance."
"The latest vehicles are equipped with advanced safety systems but it is still critical that wear and tear items such as tyres and brakes are checked regularly and replaced. We urge government to scrap its plans to change a test system that has played a vital role in making the UK's roads among the safest in the world.»
Read more:
Four-year MOT exemption proposed for new cars
Diesel scrappage scheme could give drivers £2000 to trade in diesels
Budget 2017: fuel duty frozen, traffic and diesel tax measures
UK Industrial Strategy confirms new autonomous vehicle test centre
Source:: Autocar