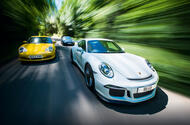 Has Porsche's 911 GT3 improved with each passing generation or become sanitised by modern demands and nannying tech?
What could be better than a day spent driving a Porsche 911 GT3 on deserted English country roads?
Normally, I might struggle to answer that, because for at least the past 10 years, when there has been a GT3 in production, there has never been any problem naming my favourite car on sale. Today, however, the answer is as clear as the sparkling skies above our heads. What's better than a GT3? Three GT3s.
We have gathered immaculate, stock-standard versions of all three generations …read more
Source:: Autocar