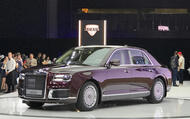 Our time at the Moscow motor show gave us an intriguing glance into a new event of two halves, from the humble to the extravagant
One of the star attractions of the Moscow motor show was the launch of the Aurus brand, a new Russian state-backed ultra-luxury Rolls-Royce rival that has produced President Vladimir Putin's new state vehicle.
The grandiose machine plays to many of the stereotypes of Russian oligarchs and might lead you to expect the rest of the show halls to be full of premium-badged high-ticket price machines, preferably with massive old-school petrol engines.
Sure, there were flashes of such pomp to be found — I've never before seen a car draped in lion hide at a motor show — but the star cars of the 2018 show were actually far more humble.
Firms such as BMW, Jaguar Land Rover, Mercedes-Benz and Ferrari were absent, with lead roles taken instead by Renault, Volkswagen (which was set up in the car park outside the show), Kia, Hyundai and — of course — Lada. And the star machines on those stands were practical, affordable cars and SUVs, machines that are unlikely to appear in the corner of an oligarch's vast garage but which will be put to good use outside the big cities in Russia's swathes of vast, challenging countryside.
For example, Renault's top models in Russia are all SUVs, and in the harsh Russian winter having a high-riding vehicle is a necessity. The firm's biggest seller is also its most rugged, no-frills SUV: the don't-call-it-a-Dacia Duster. That's why Renault developed the Arkana crossover, and you can expect more high-riding machines to follow.
Russia is a land of opportunity for car makers able to offer reliable, proven, solid models at competitive price points; Lada remains the country's market leader, but the second and third biggest brands are Kia and Hyundai. The Kia Rio and Lada Granta are currently battling for supremacy at the top of Russia's car sales chart.
That demand for affordable, simple and competitively priced cars and SUVs has also made Russia an attractive expansion project for fast-growing Chinese firms. There were plenty of them at the Moscow show: Geely, Haval, Lifan, JAC and more.
While such companies might not have models that can match up to western European tastes in terms of style and quality just yet, they're not far off — and they're certainly close enough to compete in the affordable, no-nonsense Russian market. That said, some of them have been present in Russia for around a decade and are still some way down the list of best-selling brands there.
Ironically, Chinese firms — and those from other countries — face similar challenges breaking into Russia as overseas firms investing in China: legislation, layers of bureaucracy, government interference, lack of brand awareness and a physically vast country that requires a huge dealer network to crack. But the key challenge is one of margin; it's easier to make money on a high-priced car than a cheap one.
Lada has staged a major revival in Russia in recent years, updating its product portfolio while ensuring its cars remain affordable to buy and run. It's a tough balancing act. The new Aurus Senat may be the new face of Russian car industry pomp, but the most fascinating battle in the nation's car market can be found at the other end of the price spectrum.
Source:: Autocar