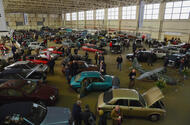 "Only one James Hull collection auction is planned. This is not the first of a phase of auctions," says JLR
Jaguar Land Rover put part of its car collection up for auction recently – and there was no reserve. We went to see what was on offer and what it fetched
Depending on where you stare, you could be looking at a British used car pitch from the 1950s, 1960s, 1970s or 1980s.
Perhaps an estate car specialist, given the cluster of late-1960s Ford Zodiac wagons, a flamboyant 1950s Vauxhall Cresta and a couple of very sad 1960s Vauxhall Victors. Arranged in another spot is a neat echelon of cars that could have been the used car stock of an Austin Rover dealer, circa 1989.
Or perhaps you fancy plunging further into the past, to an era when British family cars whined their way into monochrome fog with their unsynchronised first gears, perhaps driven by a man called Reg, his wife Marjorie sharing the bench front seat. Step this way, then, if you fancy a beetle-backed 1950 Standard Vanguard, a Morris Oxford the colour of a grubby raincoat or a municipal green Morris Cowley.
Along another wall could be a dealer specialising in (rather tired) motorhomes with names like Dormobile and Paralanian, and, in contrast to all these faded British cars, a quartet of very tidy late-model Mercedes convertibles and coupés. The Benzes were among the few foreign cars, a 1968 Renault Caravelle convertible and a Borgward Isabella coupé two more overseas rarities.
All of these cars, and many more, were to be seen last week within a chilly hangar at Bicester Heritage, the classic car centre, where they were auctioned by Brightwells. And you might be surprised to learn that all these vehicles were, until they were hammered away at no reserve to an enthusiastic public last week, the property of Jaguar Land Rover. Eh? What on earth is a major car manufacturer doing with a 100-strong car collection like this? The answer is disposing of the less desirable members of an even bigger collection – much bigger – that it unexpectedly bought in 2014.
The unexpectedness lay in the fact that big manufacturers very rarely buy car collections, and certainly not on this scale, and certainly not when a large proportion of the cars are not from its own brands. But the James Hull car collection, reputedly the UK's largest and containing 130 Jaguars, presented a one-off chance for Jaguar Land Rover (JLR) to significantly bolster its collection.
There were rarities among the Jaguars and Land Rovers, too, as well as large numbers of cars from brands that were once Jaguar and Land Rover stablemates when the pair were part of British Leyland. There are also plenty of other makes, ranging from Iso and Maserati to Bentley and Citroën.
So JLR bought the lot – all 543 cars – for an undisclosed sum, doubtless some way south of the original asking price of £100 million. A condition of the sale reputedly stated that the buyer had to retain the collection complete but, according to JLR Classic director Tim Hannig, that's not the case.
If you're now thinking that the amazing collection of dentist James Hull is being broken up, JLR says no. According to a spokesman: "Only one James Hull auction is planned. This is not the first of a phase of auctions. Instead, we're refining the collection, and it's mainly duplicates that we're selling."
The company ultimately plans to make "the bulk of the collection available to use. Jaguar Land Rover models will be our focus first, but the others we'll keep safe, and return to an active life in time."
That's great news and means Lord Mountbatten's Mini Traveller, a Bentley previously owned by Elton John, motorcycle and Formula 1 racer Mike Hailwood's Iso Grifo and an astonishing collection of woody wagons, plus dozens of more ordinary machines, will be preserved and continue to stay with the collection.
When you inspected most of the cars at this auction, on the other hand, you began to see why they were being sold. Many might have been rare and low-milers but they needed plenty of work, and others were the collection's less good duplicates. There were five Allegros in the sale, two of them the snouted Vanden Plas variety, but JLR retains the more desirable (well, kind of) versions. The same applies to the multiple Leyland Princesses and Austin Ambassadors, the Austin 1100/1300s and an array, not necessarily impressive, of Austin Metros and Maestros.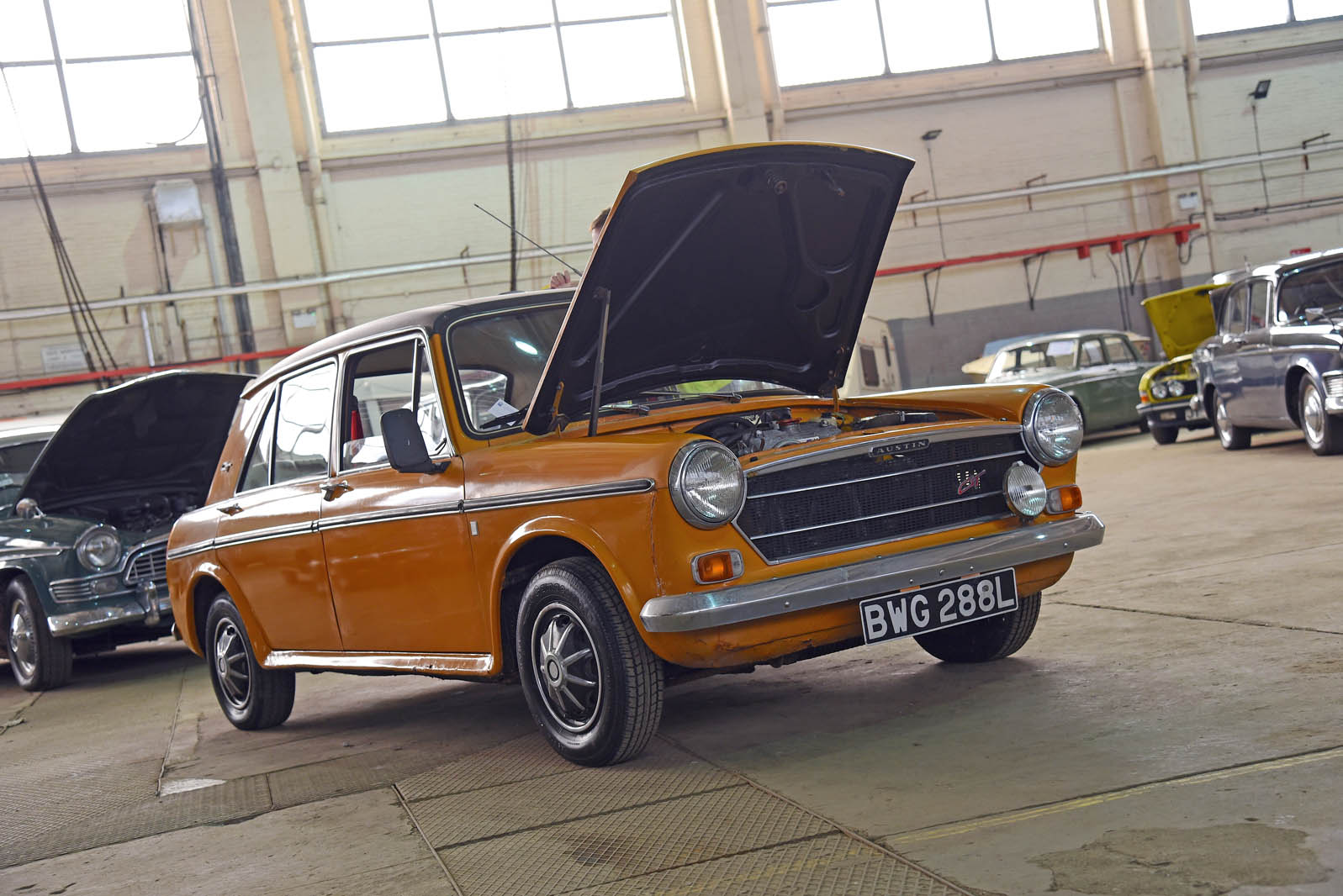 Those with a fetish for oddball campervans would have enjoyed the day, assorted Austins, Commers and Bedfords burdened with sheds containing beds. Among the Commers was a Highwayman, this camper promising to hold up plenty of people when its thumping 57bhp returns to the road. A better bet was the restored Ford Transit camper, which fetched £8624. Less cumbersome load-carriers included multiple rare estates from Humber, Standard and Austin, as well as a couple of tidy Citroën CX wagons.
There was even a beautiful wooden Riva-alike speedboat, although one hobbyist told me that it was holed and would cost more to repair than it was worth. A huge collection of pedal cars (more on those in a coming issue), model planes and model cars were also on offer, everything to be sold without reserve.
And everything did go. The auction tent was absolutely packed and the bidding keen during a marathon seven-hour sell-off. All of which meant few bargains but plenty of good buys. And an awful lot of loving restoration ahead for a lot of people.
Read more
Source:: Autocar