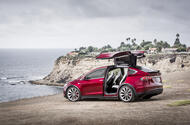 As well as the losses, sales and deliveries were lower than predicted; Gigafactory 1 is now 14% complete
Tesla reported losses of £220 million for the second quarter of 2016, continuing a negative trend that's continued for more than three years.
The electric car maker built and delivered 14,402 cars between April and June of this year, which was 2598 below its target for the period. Sales amounted to close to £998m, which was also down on market predictions.
Despite missing delivery targets for the second quarter in a row, Tesla said it would be able meet future targets, including delivering 50,000 …read more
Source:: Autocar