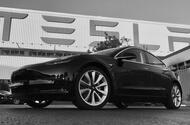 Elon Musk shared pic of first Tesla Model 3 off the production line on Twitter
Elon Musk handed over the first Model 3 to its new owner during an event; it is the most demanded Tesla yet
Tesla CEO Elon Musk handed over the first customer Model 3 to its owner at an event last night, where he also pledged to meet demand with an ambitious production schedule.
Musk confirmed that production for the Model 3 is already in full swing at Tesla's Gigafactory in Nevada, US. It expects to build 100 cars in August, before growing output to 1500 cars in September. The plant will reach maximum pace from December, when it'll be able to produce 20,000 cars per month. However, right-hand drive models won't begin production until 2019.
Read the full tech details of the Tesla Model 3
Musk also confirmed that two versions of the Model 3 will be offered from launch: standard and Long Range models. The standard car costs from $35,000 (£26,650) and has claimed range of 220 miles, It hits 0-60mph in 5.6sec and has a top speed of 130mph. The Long Range model costs from $44,000 (£33,500), delivering an official 310 miles of range, 0-60mph in 5.1sec and a 140mph top speed.
No details of UK pricing or delivery dates in 2019 have been revealed, but the entry-level price is expected to be just over £30,000 after the £4500 government grant for zero emissions vehicles is applied.
Tesla recently injected $1 billion (around £800 million) of investment into the company, something CEO Musk has previously said would help the company meet the high demand requirements of its new model. To date, Tesla has had more than 500,000 pre-orders for the Model 3, with Musk saying that the first 500,000 should be delivered before the end of 2018. «If you order a car today it should be with you at the end of 2018,» he said, referring to left-hand drive production.
The manufacturer has raised capital to help production and ease the financial risk associated with the production run, which led to a rise in its share price that was also helped by reports of its future model plans, including the Model Y compact SUV, according to New York financiers.
Read our Tesla Model X road test
Tesla has also said it aimed to deliver a combined total of 47,000 to 50,000 Model S and Model Xs in the first half of this year, but did not give a figure for Model 3 target sales.
It has, however, reaffirmed its pledge to deliver 500,000 vehicles in 2018 and one million in 2020, when the Gigafactory is expected to reach full capacity – a sharp rise from the 80,000 cars delivered in 2016.
Source:: Autocar