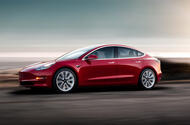 Tesla says it is now producing 2000 Model 3s per week
Company produced 34,494 vehicles in first three months of 2018, including 9766 of its entry-level model
Tesla said it increased production by 40% in the first three months of 2018 – a rate of growth that it claims "will exceed even that of Ford and the Model T".
The company had been struggling with 'production bottlenecks' for the new Model 3 and briefly halted production of the car in February to fix automation issues at its California facility.
In a statement, Tesla said that it produced 34,494 vehicles in the first quarter of 2018, comprising 24,728 Model S and X cars, plus 9766 Model 3s. That compares with a total of 29,870 vehicles (including 1550 Model 3s) in the final three months of 2017.
Tesla said: "This is the fastest growth of any automotive company in the modern era. If this rate of growth continues, it will exceed even that of Ford and the Model T."
The firm said a series of short shutdowns had enabled it to address production and supply chain bottlenecks, allowing it to increase Model 3 production "exponentially".
According to Tesla, it produced more than 2000 Models 3s in the past week, with production of that model now exceeding the combined output of the Model S and Model X. The company added: "What took our team five years for S/X took only nine months for Model 3."
Analysis: Will the Model 3 make or break Tesla?
Tesla said it is planning further steps to improve capacity and, as a result, anticipates Model 3 production to increase "rapidly" in the next three months towards its target of 5000 per week.
The company also responded to concerns about the Model 3's quality. It said: "The quality of Model 3 coming out of production is at the highest level we have seen across all our products. This is reflected in the overwhelming delight expressed by our customers with their Model 3s."
Tesla added that customer reservations remained stable throughout the last quarter.
Shares in Tesla rose by around 3% following the statement.
Read more
Tesla halts Model 3 production to fix bottlenecks
Tesla posts £487 million Q4 loss but predicts profit in 2018
Analysis: Will the Model 3 make or break Tesla?
Tesla Roadster: Elon Musk confirms faster version is due
Tesla Model 3 confirmed with 310-mile range in US
Source:: Autocar