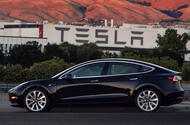 Elon Musk shared pic of first Tesla Model 3 off the production line on Twitter
Elon Musk shows pics of first completed Model 3; production of all-electric saloon to reach 20,000 units per month
The first examples of the Tesla Model 3 have rolled off the production line at the firm's Gigafactory in Nevada, US.
Company founder and CEO Elon Musk published two pictures of the first completed car on Twitter. Production for the all-electric four-door will now be ramped up exponentially, with 100 cars produced in August, more than 1500 in September and then 20,000 per month from December.
First Production Model 3 pic.twitter.com/TCa2NSUNI3

— Elon Musk (@elonmusk) July 9, 2017
The Model 3 has an entry-level price of $35,000 (about £28,000) and has been ordered by around 500,000 customers, which is the maximum output possible at Tesla's new battery-producing Gigafactory. The first models will be given to owners at a handover event on 28 July.
— Elon Musk (@elonmusk) July 9, 2017
Production starts as Tesla injects $1 billion (around £800 million) of investment into the company, something CEO Musk has previously said would help the company meet the high demand requirements of its new model.
The manufacturer has raised capital to help production and ease the financial risk associated with the production run, which led to a rise in its share price that was also helped by reports of its future model plans, including the Model Y compact SUV, according to New York financiers.
Tesla has also said it aimed to deliver a combined total of 47,000 to 50,000 Model S and Model Xs in the first half of this year, but did not give a figure for Model 3 target sales.
It has, however, reaffirmed its pledge to deliver 500,000 vehicles in 2018 and one million in 2020, when the Gigafactory is expected to reach full capacity – a sharp rise from the 80,000 delivered in 2016.
Source:: Autocar