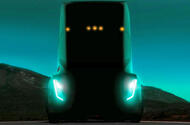 The Tesla lorry has been part-revealed in a preview image shown during an interview with TED
Tesla CEO Elon Musk said difficulties in Model 3 production line, as well as relief efforts in Puerto Rico, have delayed launch
The all-electric Tesla lorry will have a range of 200-300 miles when it is unveiled on 16 November.
The vehicle's previous debut date was on 26 October, but Tesla boss Elon Musk delayed the official unveiling following production difficulties with the Model 3.
about the Tesla Model 3's production bottlenecks here
Musk is using the extra three weeks since the truck's original October 26 reveal date to iron out 'production bottlenecks' on the Model 3 production line, as well as helping Puerto Rico with its power supply following Hurricane Maria.
The bottlenecks have hindered Model 3 deliveries from Musk's initial delivery plan, set out in Tesla's second quarter plan, with 220 Model 3s delivered in the third quarter compared with a targeted 1500.
Musk first revealed an image of the lorry and gave details of its performance during an interview with academic media outlet TED in June. He also announced the product on social media, describing it as 'unreal', but did not give any further details on its capabilities.
According to reports from Reuters, Tesla is aiming to crack regional hauling in the US. The lorry is expected to have an advanced level of autonomy.
Musk claimed that the heavy-duty, long-range HGV is capable of the heaviest class of haulage permitted on US roads. The lorry is also claimed to produce greater torque than any lorry currently on the road and that it could pull a diesel-engined equivalent uphill in a contest.
Moreover, Musk insisted that the truck could be driven around «like a sports car» and that he was surprised by a development vehicle's nimbleness when he drove it.
Much of the lorry's styling is hidden in the preview, although the lights draw inspiration from the design of those on Tesla cars, with L-shaped daytime running lights.
Aerodynamics also appear to be a focus of the truck, which has a sleek, tapered cabin. The front section is hidden; whether it will have a long nose like US semi-lorries or a bluff front like European ones has yet to be seen. The latter is the more likely solution.
Tesla also has a Model Y small SUV, an electric cargo van, a minibus and a pick-up truck all slated for introduction in the coming years.
Read more:
Tesla: «Model 3 is not the next-generation Tesla»
Tesla Model Y to lead ambitious range expansion plans
2017 Tesla Model S P100D review
Source:: Autocar