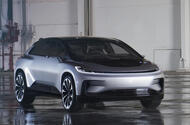 Chinese media outlets state that the Indian conglomerate has bought 10% of the troubled American electric car company
Tata is investing $900 million (£687m) into electric car start-up Faraday Future, Chinese media outlets have claimed.
Gasgoo claims that US-based Faraday Future is worth $9 billion (£6.87bn), meaning Tata's money will buy it 10% of the company.
Autocar has contacted Faraday Future and Tata about the claims, but neither has issued a response at this stage.
Will Faraday Future take Tesla's electric crown?
Tata brand Tata Motors owns Jaguar Land Rover (JLR), which itself is investing heavily in the development of electric technology. Such a deal could give JLR access to Faraday Future's advanced technology, which includes the high-tech connectivity systems developed by Chinese financial partner and electronics specialist LeEco.
The deal would also mark a big step in the right direction for Faraday Future after it recently revealed that two of its leading figures had departed.
Chief financial officer Stefan Krause resigned in October and chief technology officer Ulrich Kranz's contract was terminated. However, Faraday Future said that this had not impacted upon its ongoing research and development process.
The company has received more than 64,000 orders for its first model, the FF 91, a Tesla Model S rival, and is building a battery factory in Texas, but plans took a hit earlier this year when construction contractor AECOM claimed a payment of $21m (£16m) was late.
Faraday Future has since scaled back its plans for the site and delayed its completion date by a year to 2019.
The FF 91 is powered by a 130kWh battery and uses Faraday Future's patented Echelon Inverter, which it says can transform more energy while using less space.
The car can gain 500 miles worth of charge per hour and comes with a home charger that can fill the battery to 50% in less than 4.5 hours at 240v. Faraday Future says it predicts the car will offer a range of more than 435 miles in New European Driving Cycle (NEDC) tests.
More content:
Source:: Autocar