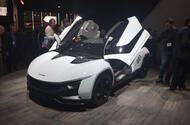 'India's first connected car' would have used a 190bhp turbocharged engine; but management has ended the project before its launch
The Tamo Racemo, a sports car that arrived at the Geneva motor show as a future rival to the Mazda MX-5, will not make production due to heavy cost-cutting measures undertaken by parent company Tata.
The Indian car maker's sub-brand had created the 190bhp model, which used a turbocharged petrol engine, to become its first 'aspirational' model. It is capable of accelerating from 0-62mph in 6sec, making it 1.3sec quicker than the most potent MX-5.
Insight: Tamo's first sports car, the Racemo
However, Autocar India has indicated that shrinking profits for Tata have convinced the brand's management to cull non-core products and practices. Investment into the Tamo brand, which was destined to receive about £30 million for its development, has been halted, and Tata has also pulled out of the 2018 Geneva motor show – suggesting its growth plans for Europe will also be hindered.
Jaguar Land Rover is the only Tata automotive brand to have turned a profit. The Indian-funded British company sold more than half a million cars for the first time last year, and the recent launches of models like the Range Rover Velar and Jaguar E-Pace are predicted to accelerate its growth.
Mazda MX-5 video
Source:: Autocar