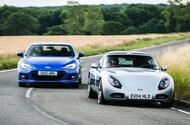 Subaru's BRZ is revered for its accessible handling, but for the same price as a new one, you can pick up a used sports car with far more power and charisma: the TVR T350
These things don't often end well.
Two years ago, we pitched a new 266bhp Peugeot RCZ R against a used 503bhp Jaguar XKR – both worth about £30,000 at the time – and the Peugeot came away with a very bloody nose. It was a good car, but simply not good enough against Jaguar's bristling super-coupé. Goliath flattened David and his little sling.
This time, our plucky underdog is the Subaru BRZ – the modestly powered but endlessly exploitable compact coupé, newly refreshed for 2017. Its opponent streaks in from left field in a cloud of combustive noise: it's one of Peter-Wheeler-era TVR's finest, the Tamora-derived T350t (the wee 't' denoting a targa-style top, as opposed to the T350c coupé). Fewer than 500 T350s were built, but there are a few in the classifieds, mostly priced at around the same £26,495 being asked for a new BRZ.
The privately owned T350 we've generously been lent is worth a little more – about £32,500 – because it carries both Red Rose and Lightweight specification. Red Rose means its six hot Lancashire pots have been stroked, raising engine capacity from 3.6 to 4.0 litres and power from 350bhp to 380bhp, plus heftier brakes, a big-bore exhaust and a viscous limited-slip rear differential. The Lightweight spec means vinylester bodywork rather than the standard GRP, saving about 30kg. That leaves the 197bhp, 1242kg Subaru 142kg heavier yet half as powerful. In starker terms, it's 159bhp per tonne versus 345bhp per tonne.
The BRZ is 266mm longer, too – mainly because it has two small rear seats – but both cars still look little and lithe, the Subaru's à-la-mode lumps, bumps and angles contrasting with the TVR's smooth yet aggressive, Kamm-tailed form.
Their interiors give the biggest clue to their original RRPs: the TVR cost twice as much new. What isn't high-quality leather is Alcantara – there's even hide on the standard-fit roll cage – and surprise and delight are both delivered by the mostly unlabelled aluminium switchgear. Push this, turn that, watch the multi-coloured LEDs light up. It's a joy. The seats have been reupholstered, but the sterling condition of the entire cabin belies the odometer's 58,000 miles.
The Subaru's seats are leather and Alcantara, too, and of decent quality, but the rest is a medley of unattractive plastics – some softish but mostly brittle-feeling. The rock-hard, perforated leather-effect door inserts are a particular lowlight, while the mismatched switches range from rudimentary to passable. It's best to accept these economies and console yourself that fancier finishes would add weight. The BRZ's boot is smaller than the T350's fairly generous, glass-hatched space, but you can drop the Subaru's one-piece rear seatback panel for extra room.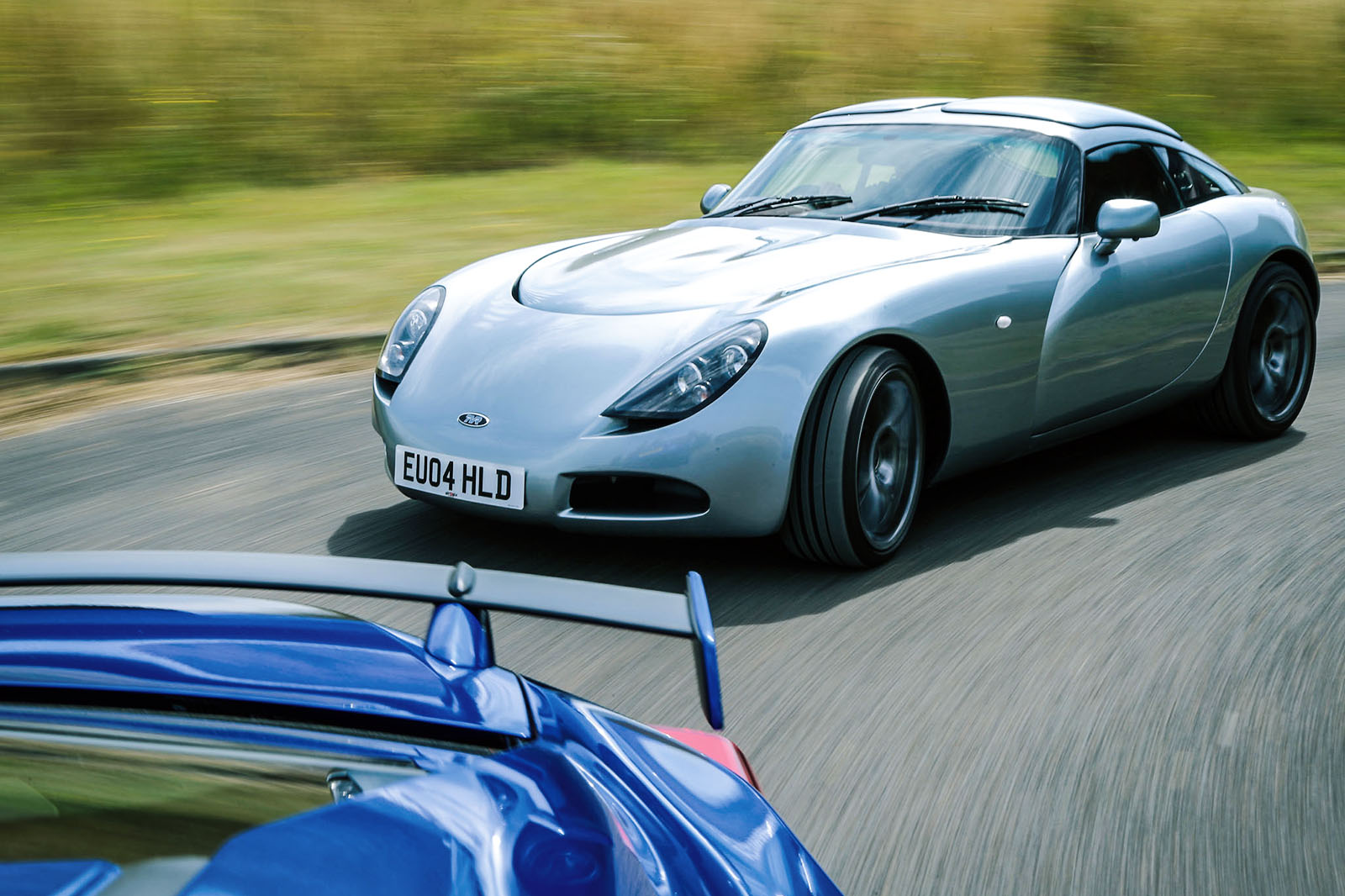 The driving position is a bit better in the BRZ, going lower, but both have variable reach and rake for their well-sized and shaped steering wheels. The T350's seats push into the spine a little and its roll cage prevents tall drivers from craning right to see past the car ahead, while finding the right seatback angle can be tricky in the BRZ. Overall, both are comfortable, though.
Supplementing the conventional dials in the Subaru is a slick 4.2in display that includes real-time power, torque and g data, while its optional £1500 Alpine sat-nav and infotainment unit is basic and slow. The TVR's white-faced dials continue the unorthodoxy, with units of 10mph on the speedo, no redline on the tacho and a busy but informative monochromatic LCD display below.
The T350's stereo is unused by its owner – and the reason becomes clear when I fire the car up. We're parked inside Alconbury Weald's disused nuclear bunker and the reverberating cacophony from the TVR's big exhaust might fool you into thinking the Cold War had kicked off after all.
Out on the road, its swelling drone from low revs gives way to a loud, inductive fizz at 4000rpm, followed by a hellish rasp as the straight six really hits its stride at 5000rpm. Such is the aural intensity that instinct urges you to back off before something breaks, but delve on into the zingy throttle's long travel and you've got another 2000rpm to explore before the green, amber, then red upshift lights finally call time on the madness. There are much easier ways to get 380bhp from an engine in 2017, but surely none as triumphant.
The T350's short-throw, five-speed gearbox has a tight, mechanical feel. Combine it with three offset aluminium pedals that – despite looking entirely crafted for form over function – are sweetly placed for heel-and-toeing and an overrun crackle fit to summon the Kraken and you have an addictive, heady formula that never gets old.
Although it's more interesting than many contemporaries, the Subaru's boxer four is predictably ordinary versus the TVR's in-line six – perhaps even hindered more than helped by its overtly manipulated engine note. Yet its six-speed manual gearbox also has a tidy, if less burly, shift action and there are blip-friendly pedals. And although figures show it takes almost twice as long as the TVR's 3.9sec to reach 60mph, you couldn't say it feels slow. Provided you keep the revs up, that is. It's very reluctant below 2000rpm, and there's a torque trough between 3250rpm and 4000rpm. Upshift too soon and you'll wallow in that doldrum for a painful moment; better to keep it bubbling in its 4750rpm-7000rpm sweet spot.
But the Subaru offers a balance of composure and agility that the TVR can't muster. Its electric steering is more progressive than the T350's hydraulic set-up, which, beyond a central dead patch, is overly sharp, becomes very heavy with lots of lock and tramlines a bit with pace. The BRZ's helm is quick …read more
Source:: Autocar